Feeling Boxed In
What have I been doing that has kept me from blogland? Unfortunately, unpacking and settling into the new apartment, city, state, coast, and job has been very time consuming. That, and I got cable after over four years without. HGTV, where have you been all my life? As a crafting/decorating/DIY nut, the programming is currently consuming my life. A handy thing considering I need to adjust my decorating style to the west coast.
Anyway, back to knitting and the cross country trip. We started in Rhode Island and drove through eight states our first day. Yes, you read correctly, EIGHT: Rhode Island, Connecticut, New York, New Jersey, Maryland, Pennsylvania, West Virginia, & Virginia. Did I mention it was pouring rain most of the drive? Yeah, good times. I did get a alot of knitting done, though.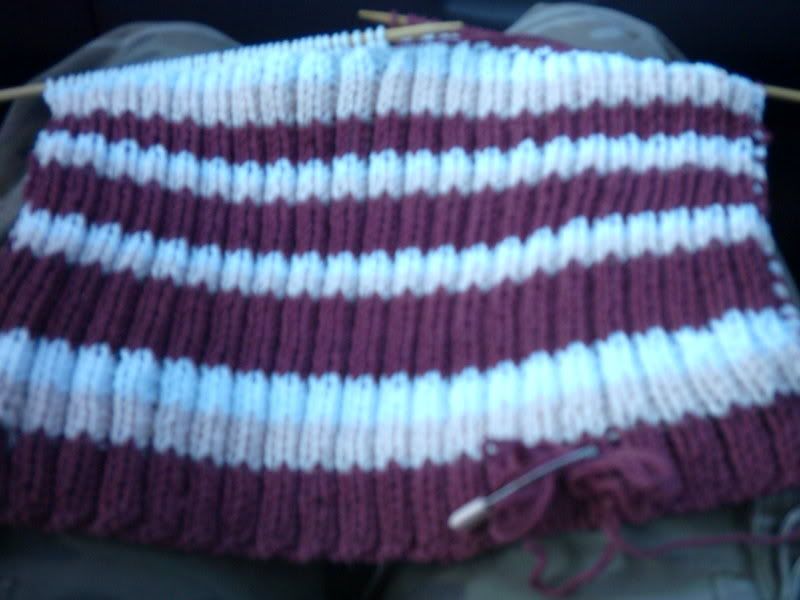 The Knit.1 ribbed tank really benefitted from all the time in the car. Aren't the stripes cheerful?
The second day we drove out of the run and into the sun. Yippee! (We would be begging for the rain back by the end of the trip.) We then drove from Virgina into Tennessee. And drove, and drove and drove. After going through eight states on the first day, it seemed strange to spend so much time in a single state the second day. The second night we also stayed in quite possibly the worst motel in Tennessee. I'm sure there are lovely places to stay in Tennessee. Unfortunately, we must have passed them. We did have a good dinner, though, and we loved the sweet tea. How could sugar ever really not improve something?
The third day we drove out of Tennessee. Here is a large silver pyramid I photographed in Memphis. Cool, huh?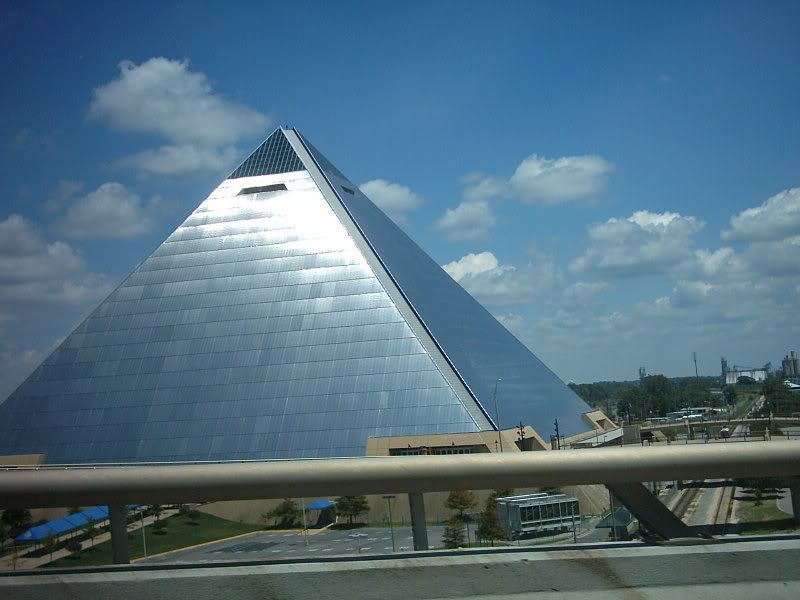 This structure is the Pyramid Arena, a 21,000 seat sports and entertainment facility that is home to the NBA Memphis Grizzlies and the University of Memphis Men's Basketball Program. We thought it looked wicked cool from the highway.
We stopped that night in Conway, Arkansas. We visited some friends in Conway and had a great time. What a lovely, friendly city. In Arkansas we started to first experience the heat of the south. Considering the dreary rain we left behind in New England (and all the flooding, eek!), the sun and heat was a welcome change.
Tomorrow I will continue with the lowdown on Days 4-7. Stay tuned.