The Villain's Mistake
Lines from the movie The Incredibles (2004):
Lucius:[Bob and Lucius are sitting in a parked car, reminiscing] So now I'm in deep trouble. I mean, one more jolt of this death ray and I'm an epitaph. Somehow I manage to find cover and what does Baron von Ruthless do?
Bob: [laughing] He starts monologuing.
Lucius: He starts monologuing! He starts like, this prepared speech about how *feeble* I am compared to him, how *inevitable* my defeat is, how *the world* *will soon* *be his*, yadda yadda yadda.
Whenever the bad guy is about to kill the hero in a movie, the one mistake he or she always makes is to start monologuing. Why is that? I think this habit taps into our deepest need to tell others that we've succeeded. Just killing the hero would be a bummer. How would the villain revel in the glory, if she just defeated the guy and moved on with her day as if it were all just part of a normal day. You know, killed the hero, made a sandwich for lunch, went to the bank, stopped at Target for laundry detergent. That wouldn't make a good story at all.
Sometimes I feel that what's missing in our lives is the option to monologue at important moments. When I defended my dissertation successfully I was ecstatic. However, I would have been even happier if I'd had the chance to monologue a little, and yammer on about how *inevitable* my success was, how *the academic world* will soon *be mine*, yadda, yadda, yadda. Or at the very least, I would have liked a musical number. I would have chosen "I Will Survive" and worn sequins (naturally).
Here is what I worked on today: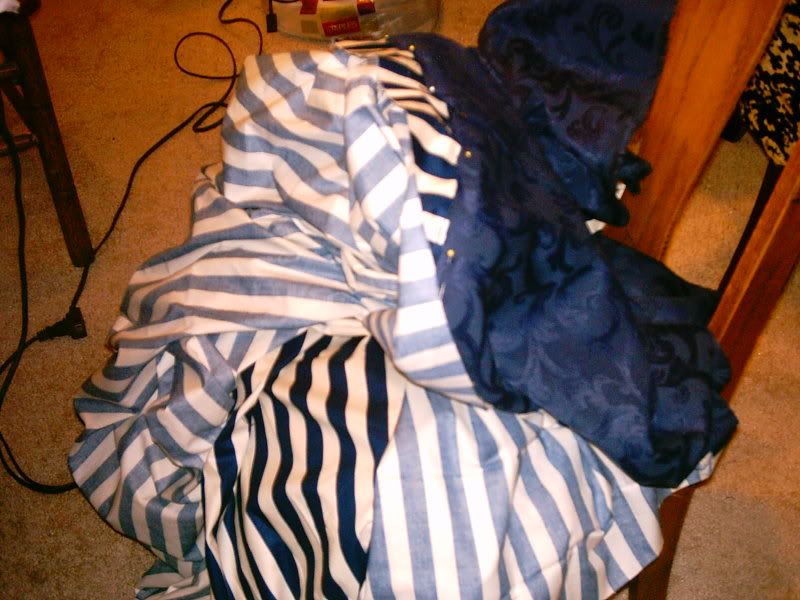 This pile of fabric will soon be fabulous drapes for our living room (believe it or not). Stay tuned to see how they turn out. And, very likely, there will be some monologuing.