All Sewn Up
Lately, I've been doing lots of sewing, much of it by hand. The casual observer who knew what to look for would know this. I have lots of tell-tale needle pricks in my fingers, from feeling for the needle coming through the fabric. I consider them badges of honor. My curtains are nearly done, my madras top is finished, and l only have to sew the bindings on my baby blankets. Not too bad, if I do say so myself!
When I seem to be succeeding at a particular craft venture, I always get carried aways and want to start 6 or 7 new projects. Nevermind that the one I just completed took me 3 years, or that I have several projects already in the qeue that are currently being woefully neglected. A true crafter (be it knitter, crocheter, sewer, quilter, or all of the above) can't help but be attracted to the possibility of the next new project. I just bought the summer issue of
Interweave Knits
and there are a few new clothing patterns I'm itching to buy. I'm trying to stay strong, but I'm not sure if I can do it. These are just too cute! What's a girl to do?
McCall's 4783 is a very retro skirt that is good for using up a yard or two of nice fabric. You can even do the yoke in a contrasting color, if you don't have enough or just for interest.
Simplicity 4122 would be great for my NewCaliforniaLifeStyle. I've seen these types of blouse in a lot of the stores. They're cool in the hot weather, but fun and not at all revealing (so OK to wear to work)
Finally, the cropped version of this jacket is to die for! This is Simplicity 4109, a "Built by Wendy" design. This would be really stylish and professional in a fun print or a rich solid.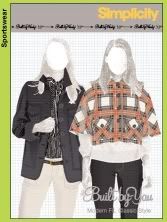 I'm trying to be strong and not start anything new, but it's been very difficult. Maybe if I use fabric I already have it would count as stashbusting.....