Everyone Loves a Good Rival
I am a relatively new knitter, but even so I've picked up on the rivalry between "process" or "project" knitters. From my noobie point of view, this dichotomy makes "process knitters" sound like hard-core knitters who just love to knit (no matter how unwearable the final product might be) and "project knitters" like people who are just knitting so they can have a cool sweater at the end with no real appreciation for the knitting itself. I always imagine them duking it out, the process knitters in their cabled/intarsiad nightmarish sweaters beating up on the sissy project knitters in their matching twinsets. Of course, In reality most knitters probably have done both types of knitting, and most projects are a combination of process and project.
Most likely this line of thought was inspired by reading too much scientific theory. It always turns out that both sides of any theoretical argument have some grain of truth, and so a perfectly good rivalry is shot to hell. We all know that some of the best scientific thought was the result of bitter rivalry. Nothing motivates you to whip out a study like being able to prove to some other joker that you were right and they were wrong. And you'll both likely get a whole slew of publications out of it. What could be better?
I mention these things because right now the possibilities for my next project are duking it out. I am looking for a project and yarn to work on as a reward for surviving my first semester teaching (assuming I really do survive, that is; only time will tell). So, should I pick something with lace or cables, or should I pick something a bit more mindless (generally works better for me; I get distracted easily) that will give me a truly beautiful sweater in the end? Here are the current contenders:
One option I've been considering is the Union Square Market Sweater from Interweave Fall 2005. It's beautiful, but simple.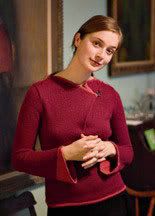 Eunny Jang's
turned out so beautifully that I've fallen for the pattern, and I would probably use the same yarn she did, Garnstudio DROPS alpaca. I am hankering for something in purple, and ideally the main color would be a dark purple with lavender trim.
In the other corner, is the Eyelet Chemise for Interweave Summer 06. It has a bit more interest in the knitting with the lace and scoop neckline.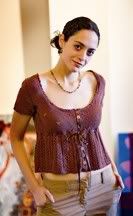 In blogland,
Neglecting My Kids
did a beautiful version that looks great and maintains a bit more modesty (Should we really need to do abs everyday to wear knitwear? If I went to the gym that much I wouldn't have time to knit!) I could knit it in a lovely cotton or splurge for the Euroflax the pattern calls for in eggplant. In a head to head knit-out, which would win?