Living in Material World
I love fabric almost as much as I love yarn. Every piece of cloth and skein of yarn has the potential to be something fantastic (except maybe flannel with Barney the Dinosaur, but even that might be useful for buffing the car or something). That's why I love crafting. You can take the most generic materials and turn it into something unique and beautiful. Of course, starting with beautiful materials can lead to something truly spectacular.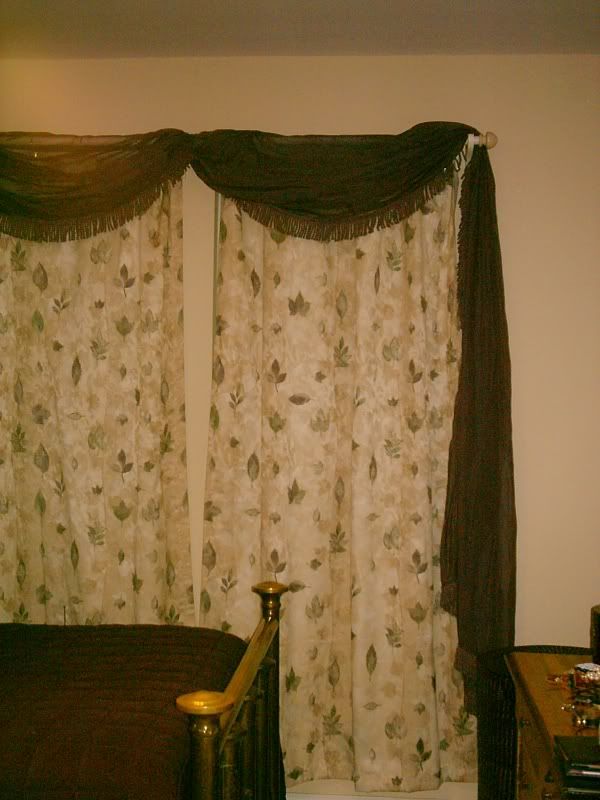 Our bedroom curtains started life as a bolt of beautiful, relatively expensive fabric. Now look at them, both beautiful and functional in all their glory. This fabric inspired the entire decorating scheme of the master bedroom. As I was working on the curtains, I was drawn to the dusty purple of some of the leaves. Our bedroom had always been missing something, and I could't quite put my finger on it. The antique brass bed, refinished dresser, butternut bookcase, all these things were lovely and went well together. What it really needed, though, was a dose of rich color. Once I settled on purple, I began to hunt for a purple bed covering that was, here's the hard part, machine washable. I have severe dust allergies and a dryclean only bed covering just wasn't going to work. I searched and searched, and had given up until I found the perfect thing at, get this, IKEA of all places! We even found a coordinating pillow to go with it! Now I am able to once again rest, knowing that I have negotiated another decorating crisis.