Not so Manic Monday
You know it's going to be a long week when you go for the espresso drinks and it's not even noon on a Monday. Usually, I start off the week energetic and eager and by Wednesday afternoon I'm relying on caffeinated beverages. This week, I couldn't make it past noon today. My excuse is that going back to standard time screwed me up. Yes, I know I should have gotten an hour more of sleep, but the hubby figured that since we turned the clock back this would be a good time to adjust to our new wake time of 5:15 am. In practice, it should feel as if we were sleeping in by 15 minutes. I even went to bed by 10:15 pm last night. But, my body knew something was up. It wasn't fooled. And it is rebelling at getting up at any hour before 6:00 am. Alas, this is not a fight it can win. Traffic was much better for the hubby, so we will be getting up at our new time from now on.
Anyway, I thought I'd post our choices for the counters and floors in our new house. It won't be done until May, so until then we can stare at our samples and dream. Here is a photo of our cabinets and the granite we chose for the counters. The cabinets will be maple and stained this light reddish hue. At Home Depot the color is called "cider." The granite has a lot more pizazz in person, but you can tell that this will go well with our white sink (comes standard and would be a pain to replace). The kitchen should look very light and warm.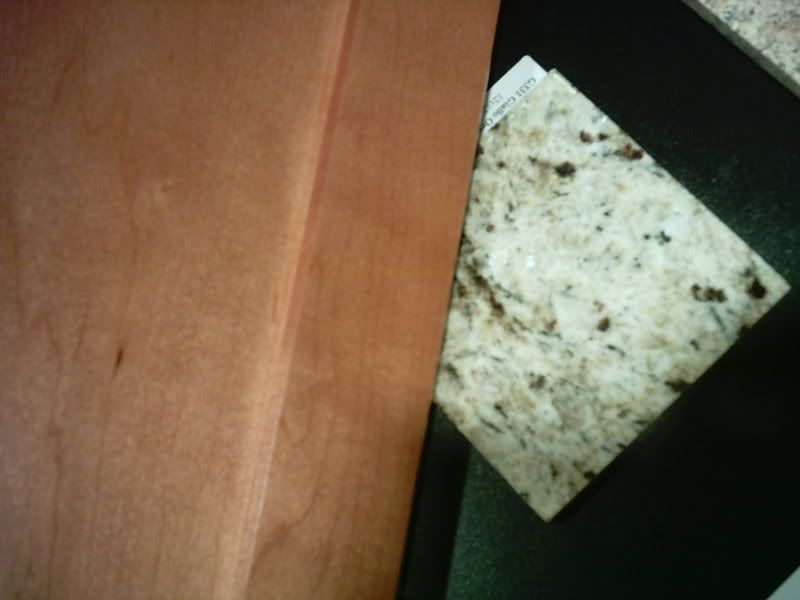 Below are the two types off flooring we're upgrading for the house, along with the cabinet (just to show that everything looks nice together). The tile will go in the kitchen, dining area, entry, the laundry room, and all the bathrooms. The carpet will go on the stairs.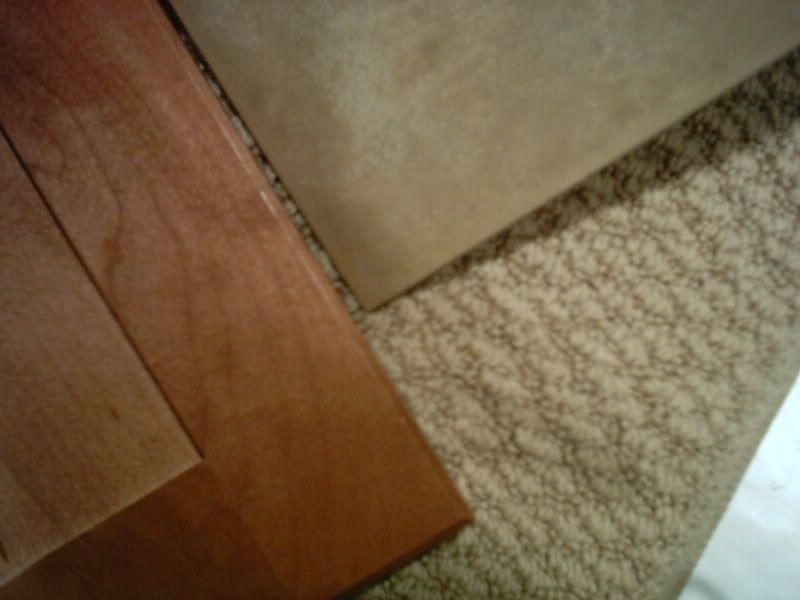 The bedrooms and living room will get plain tan carpet for now, and we will upgrade to wood floors ourselves down the road. For the living room we plan to put in a mid-tone hand-scraped, antique-looking wood, and the bedrooms will get a light, smooth wood. In a few months, I hope to post photos of the finished product!