Dyed in the Wool
I had to explain what the saying "dyed-in-the-wool" meant to my husband the other day. I was referring to someone as a dyed-in-the-wool democrat and he'd never heard that phrase before. He grew up in a very warm climate, where apparently wool references are less common. According to Answers.com there are two definitions:
1. Thoroughgoing; out-and-out: a dyed-in-the-wool populist.
2. Dyed before being woven into cloth.
This weekend, I actually had a chance to demonstrate the second definition firsthand. I had my first foray into the world of dying my own yarn. Here are the results:
The beautiful stuff on right was dyed by Anne of
Crafty Diversions
. It's mohair dyed beautiful shades of blue and purple.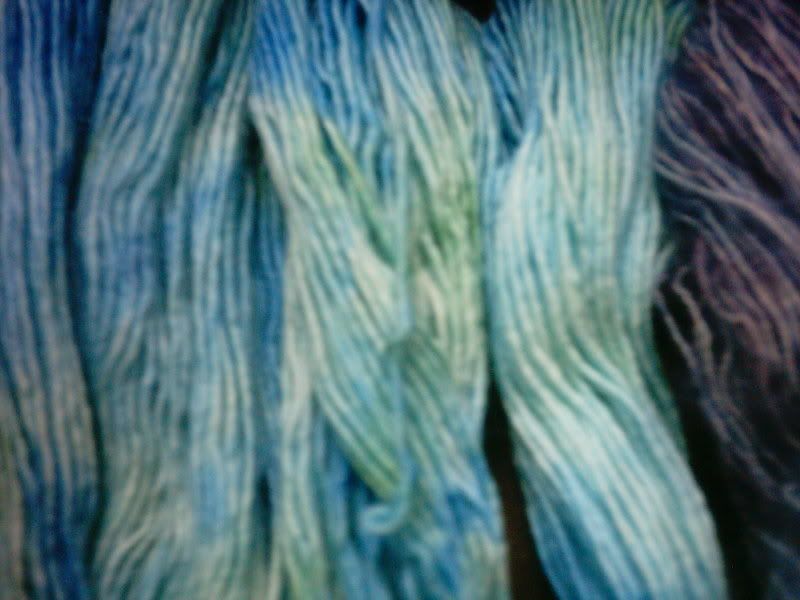 I used Brown Sheep worsted, which I was told would work really well. I believe this was an accurate assessment, as it took the dye nicely and was pretty easy to work with. It came out a very ocean-inspired green and blue. Now the questions is, what to do with 380 yards of hand-dyed wool and 480 yards of hand-dyed mohair. Perhaps a felted bag with the wool and SnB's "Ultra Femme" with the mohair. More importantly, does this make me a dyed-in-the-wool knitter?