Knit for Yourself
"Trust yourself. Think for yourself. Act for yourself. Speak for yourself. Be yourself. Imitation is sucide." - Marva Collins
Since this is a knitting blog, I think "Knit for yourself" should be added to this quote. Because most of us, myself included, just spent the last couple months hurriedly knitting gifts for other people, I think it's good to take the time to knit something nice for yourself. I know most of us always have one or two projects on the needles for gifts, but at least some of our WIPs ought to be for ourselves. In that spirit, I have dragged out the Vogue Knitting vest that I started last year for the Knitting 'Special' Olympics (a less intense version of the Knitting Olympics, for us beginner knitters). I got pretty far, but once the weather warmed up and our Big Move was underway, the vest was sent to the bottom of the knitting list. No more! With Californa experiencing record low temperatures the time is right for a warm wooly vest. Also this yarn has shamefully been hiding in my stash for a good ten years now, and deserves to be showcased. The back is completey finished, and I am making good progress on the front: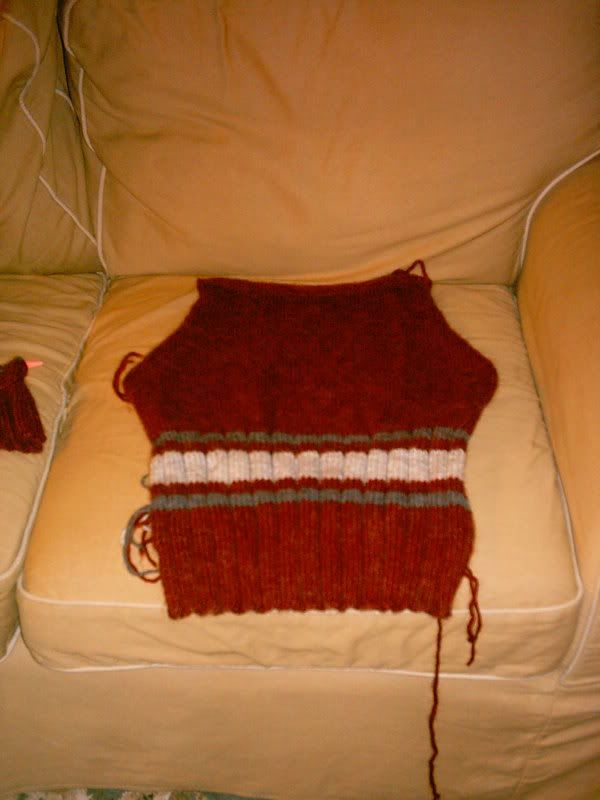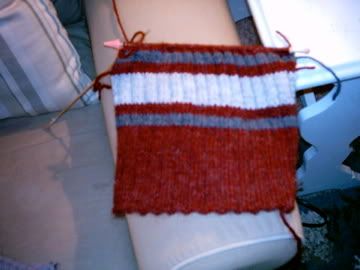 Just so you don't think I'm completely selfish, I plan to use the leftover burgundy yarn to make a scarf for the
Red Scarf Project
. Unfortunately, I found out about this charity a little late to meet this year's deadline (I'll try to get one done at least), but I plan to stockpile a few scarves for next year.