Kicking It in 2007
"Life's a bitch. You've got to go out and kick ass." - Maya Angelou
This quote was part of a quote from my new "Women's Wit" calendar for January 1, 2007. So, in that spirit I am starting 2007. I have to admit that life has been fairly good to me of late, so I'm not feeling especially vengeful towards life. I think I will approach the as an opportunity to kick my crafting into gear for the new year. This is my list:
1. organize, organize, organize
My crafting supplies, stuff around the house, and office are all a mess. Once we move into our new, larger townhouse I will be able to do a much better job of organizing the house, but there's no excuse for my office. Why do I insist on writing all important information on post-its and scraps of paper? I must break this habit!
2. finish the projects in my sidebar
This includes the knitting and other crafts. Some of these projects have been sitting around for several years, so it's time to push through and get them done. If I do this I'll feel a lot better starting new projects
3. Learn to cable and do colorwork
Nothing too fancy, I just want to learn the basics and take my knitting to the next level.
Speaking of staying organized, I also need to finish posting my FO holiday gifts. I made these adorable hats for my husband's godson, who is five, and his little brother, who is a year and half. I think they have the right combination of fun and durability.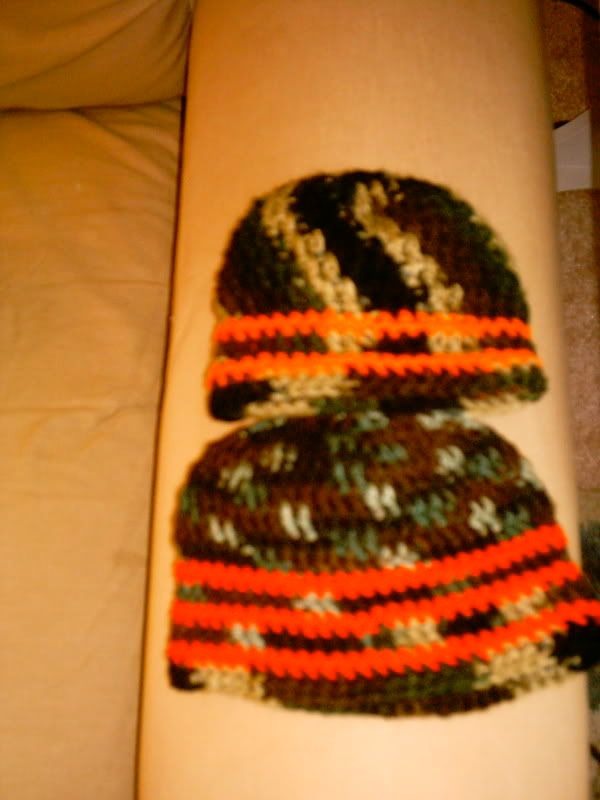 Yarn: Red Heart in camoflouge, orange, and red
Pattern: Boy Beanie from
The Happy Hooker
Changes: I made the larger one exactly like the pattern. The smaller one was made using 40 stitches around (not 55) and with only two stripes of color.
Yardage: No idea, since the yarn was gifted to me from someone else who was making this hat. I'd guess that one skein would make about 3-4 hats.
Hook: US size I
Notes: The size in the book is much too small for an adult head (I couldn't come close to fitting it on mine, and I have a rather small head). I would add at least 10 more double crochets to get the grown-up size. However, the pattern is super easy and fun, and these are easy to whip up quickly for gifts.