Obeying the Rules
"If I'd observed all the rules, I'd never have got anywhere." - Marilyn Monroe
Just some more words of wisdom from my "Women's Wit" calendar. I know it's hard to believe, but I had a lot of trouble following the rules in high school (insert snicker here for all my real life friends). At the time, I thought of myself as a true individualist, living outside the rules, taking my own path. In reality, I was just a typical rebellious teenager.
In my defense, sometimes my sense of humor got me in trouble. After getting caught skipping school (which I only did once and managed to get caught), I had to complete a truancy form filled with stupid questions that would never in a million years make a teenager think twice about skipping school. Things like, "What can you do to you make sure you will attend school in the future?" I thought the whole thing must surely be a joke and responded as such. For example, to the above questions I replied "I will make my best effort to give a crap about the inane useless subjects we are studying." Needless to say, I earned a few more detentions with my responses. Some people have no sense of humor.
Anyway, I've gotten a lot better about following the rules. Thankfully, knitting patterns aren't as strict as high school principals. Here is a photo of the scarf I'm working on a gift for a friend. I'm using the
manly scarf
pattern from
the Knitting Queen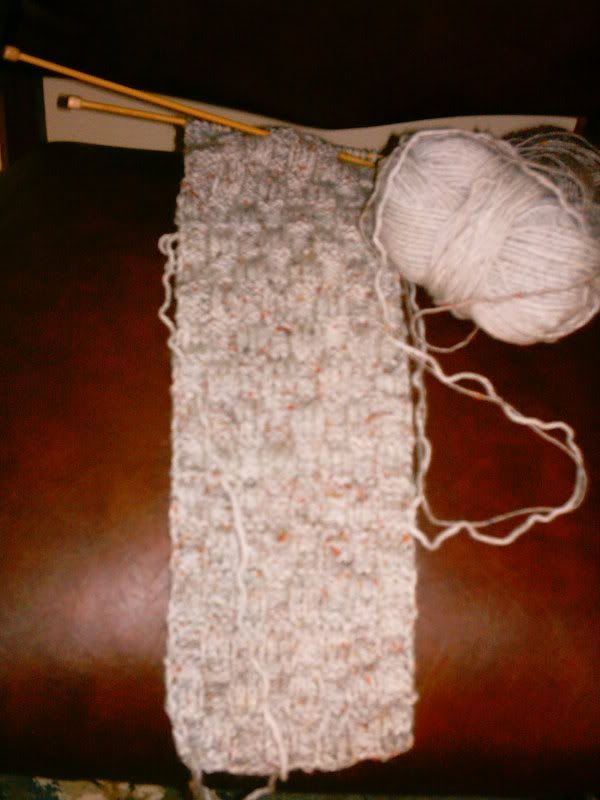 I've also been working away at potholders for the potholder/recipe swap. Unfortunately, I was an idiot and forgot that today was Martin Luther King, Jr. Day, which means the post office is closed. So, it will be mailed a day late (sorry,
Gretchen
!). Hopefully, she won't give me any detentions (even though I really deserve one). ;) Pictures of the final package will follow, once my swap partner receives her goodies.