Retro Crafting
Theresa from
Knitting Underway
has received her Christmas gift, so I can now blog about it without ruining the surprise. She was extremely generous and bought me a subscription to
Interweave Knits
for Christmas. I already received the winter issue and of course want to knit everything in it!
Although my gift can hardly compare, I at least tried to make something useful. On her last visit she had mentioned that she liked my potholders, which were very simple crocheted ones made from cotton yarn. The pattern is from a very old crafting magazine called "Country Handcrafts." It was published roughly from the mid-80's to the mid-90's and was really a hodge podge of knitting, crochet, cross-stich, sewing, wood crafts and anything else that might fall under the general title "crafts." Honestly, most of the crafts were pretty ugly (some in a fun, kitschy way), but sometimes there was a gem, like this potholder pattern. They are surprisingly good at protecting hands from heat, have a nice built-in hanging loop, and are easy to wash. Pretty much ideal for their intended purpose. So, I bought some fun, patriotic colors and made a set for Theresa. Here are the details.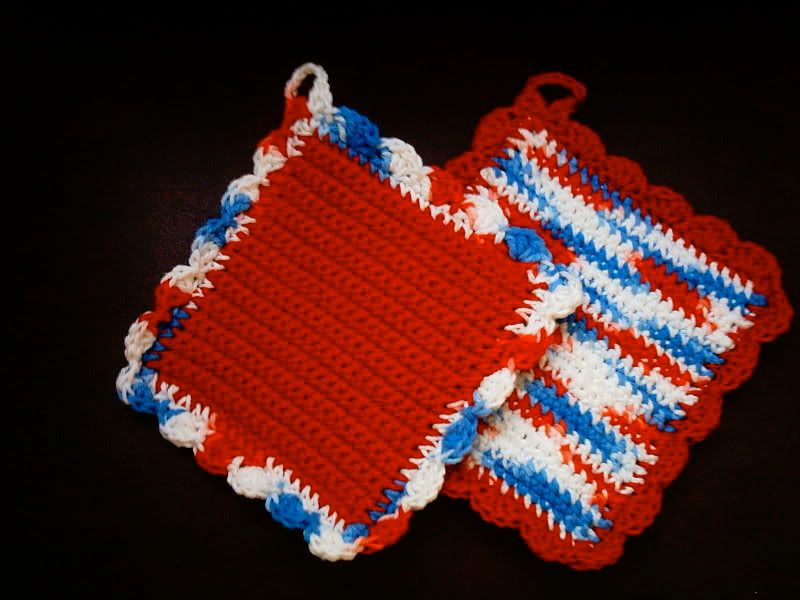 Yarn: Sugar 'n Cream in Country Red (113) and American Ombre (00219)
Pattern: From the Fall 1994 issue of
"Country Handicrafts"
Changes: I left out the embroidery of "Sugar" and "Flour" on each.
Yardage: One skein of variagated (95 yards) and one skein of solid (120 yards) for each potholder set
Hook: US size G
Notes: After using the potholders with the embroidery, I found that keeping them clean was problem (the embroidery was done on a plain white background, and the back was plain white). I think using the variagated yarn gives them a more modern look and makes them less likely to need to be washed daily.