Change is Good?
"No one likes change but babies in diapers." - Barbara Johnson
First, I just want to thank everyone for all the nice comments about my sweater. It was a pretty big project for my first knit garment, so it's nice to hear that it turned out OK. It is very comfortable and more importantly gave me the confidence to tackle more large projects.
Theresa
mentioned that my rather shorter list of FOs for 2006 may have had something to do with having moved 3,000 miles, bought a house, and started a new job all this year as well. I can't deny that these life events have taken a lot more from my crafting time than I had hoped, but with so many wonderful things happening I don't want to complain. I also want to thank
Jennifer
for saying I look too young to be a professor. I am extremely flattered by your comment, although I fear I may look older in real life. Just ask my students. I also think the cricket lab I did this week for class may have aged me about 10 years. Who knew crickets required so much care?
Today's quote for the blog reflects my predilection for alternating between knitting and crochet projects, which probably hinders my ability to make any real progress on either one. The last few weeks I have been working feverishly on the manly scarf and the Vogue vest. After making what seemed like minimal progress on those, I picked up this baby afgan that was nearly finished. This switch was also spurred by the fact that I sent the
blue one
off as a gift to a recent arrival (a boy), and I also wanted to give one to fellow professor who recently had a girl. Here is a yellow afgan I plan to give to my colleague: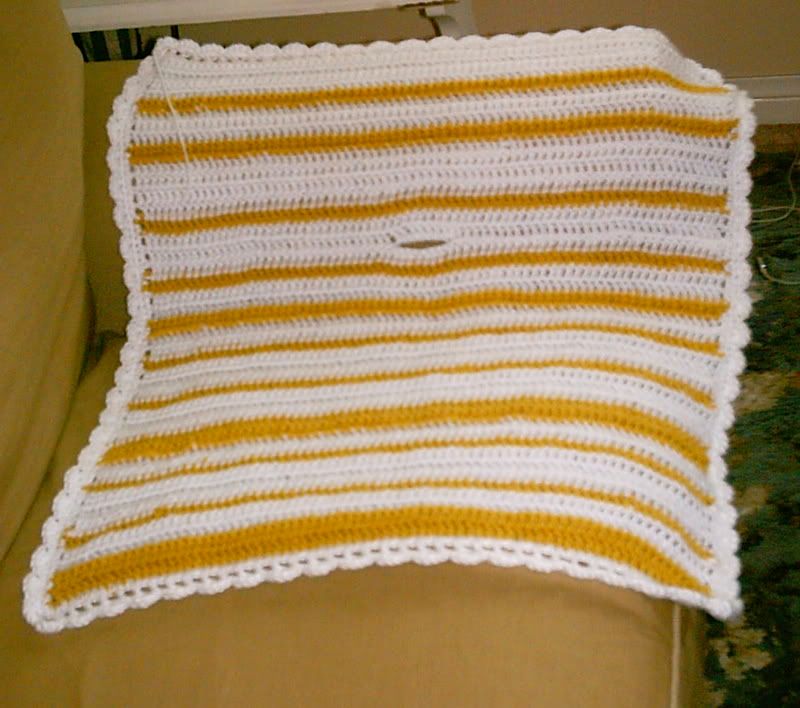 Here's a closeup of the stiches: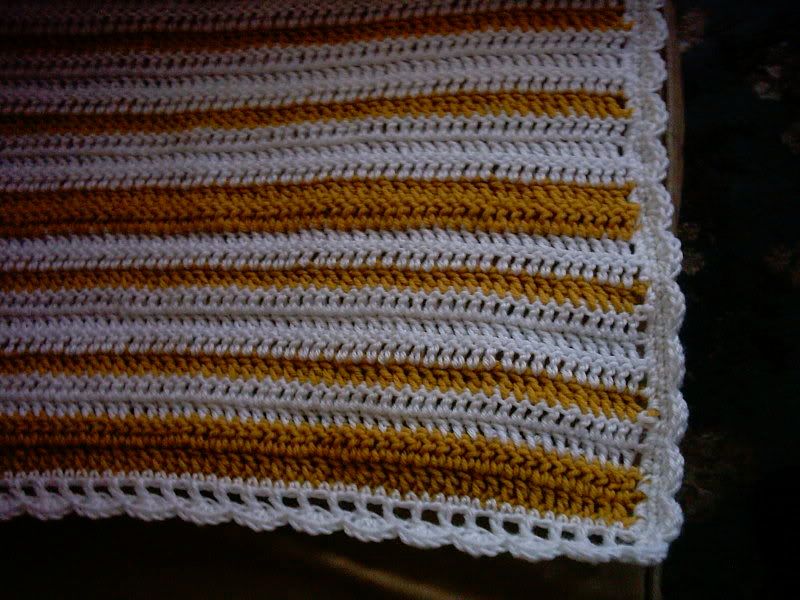 Yarn: Caron Simply Soft in white and some old Red Heart in gold - all 100% acrylic
Pattern: Seija blanket in
The Happy Hooker
Changes: I added a shell edge and left out the braided trim, partly to make it look different and partly because I ran out of the gold.
Yardage: 1 skein white and whatever was left of the gold
Hook: size H
Notes: The blue one I made was a little small, so I went up a hook size. This pattern is really easy and fun, and the hole for the seatbelt is so clever. I think I may make dozens of these and give them to everyone (well, everyone with a baby, that is).
Actually, I do need to start working on a few more afgans. Besides the two that are already spoken for, I need to make gifts for at least four more babies. I already have yarn for blankets in blue, pink, and green. Thankfully they crochet pretty quickly!
Labels: FO 2007