A Little Monkey Business
Lately I've been working on a lot of monkeysexual projects, and I'm not just talking about the
monkey
socks in Knitty. What's a monkeysexual you say? It's a word that we love and have been using quite frequently of late (I don't just mean the royal we either. There are others using the word, but they may prefer to keep their identities hidden at this point in time). What does it mean you ask? Well, it can mean just about anything you want it to. Personally, I can think of any number of things that could be described as monkeysexual. It's just the word you need to describe that odd situation which previously defied description.
Not to brag or anything, but I think my latest FO is extremely monkeysexual. Yes, you heard right, I actually finished something! (how monkeysexual of me, don't you think?) It's an actual item of knitted clothing that looks and fits just the way I'd hoped.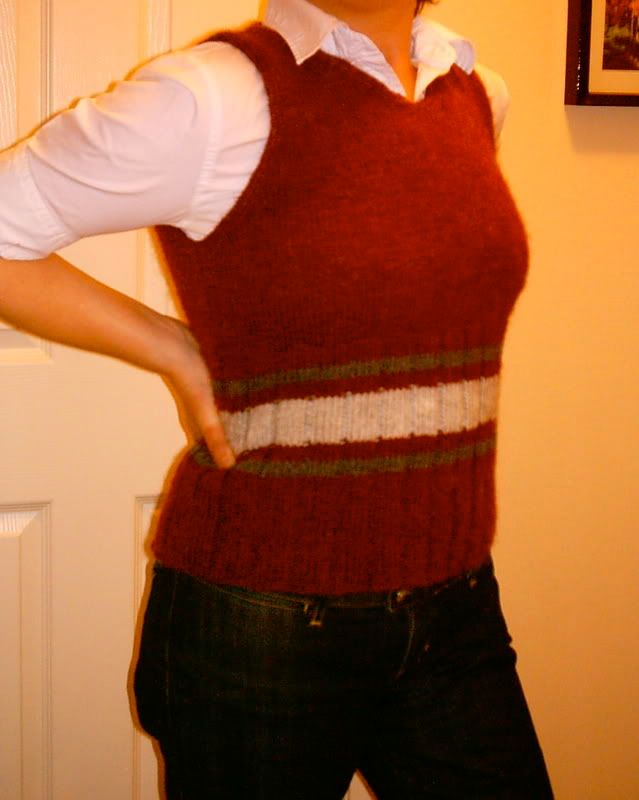 Yarn: Lorena DK (40% wool/60% acrylic) in burgundy, Unger Aries (45% wool/55% acrylic) in light gray, Wool-Ease worsted in oxford gray
Pattern: V-necked vest from Vogue Knitting, Winter 2005 issue
Changes: I added a single crochet edge around the neckling to prevent rolling
Yardage: about 700 yards of the burgundy, and a small amount of both grays
Needles: US size 6
Start/End Date: Started on February 10, 2006 (knitting olympics) and finished seaming on March 16, 2007
Notes: I made the size medium and it seems to fit quite nicely. This was a fairly easy and fast knit. The main reason it took so long to finish was that I set it aside last May and didn't get to it again until the end of January. I've also been extremely busy this semester and haven't had much knitting time. (Why, oh why, did I assign so many papers?)
I hope this inspires you to be a little more monkeysexual in your own life.
Labels: FO 2007