What To Do
"Life would wonderful if we only knew what to do with it." - Greta Garbo
Although my schedule isn't nearly as busy as
Professor Knitwit's
, the end of the semester is fast approaching and along with it I have a acquired a huge pile of grading. I also need to prep my last few lectures and assignments, and get all my final exams ready for copying. The good news is that I'm close to having survived my first year as faculty! To celebrate, I am attending a conference in Florida in mid-May, where I will get to hang out with colleagues and spend the week with my good friend C, who is also completing her first year as faculty. We will definitely be celebrating with a few margaritas!
In spite of the craziness, I was able to get some knitting done this past couple weeks. Good thing, too, because I really need to get this baby gift sent!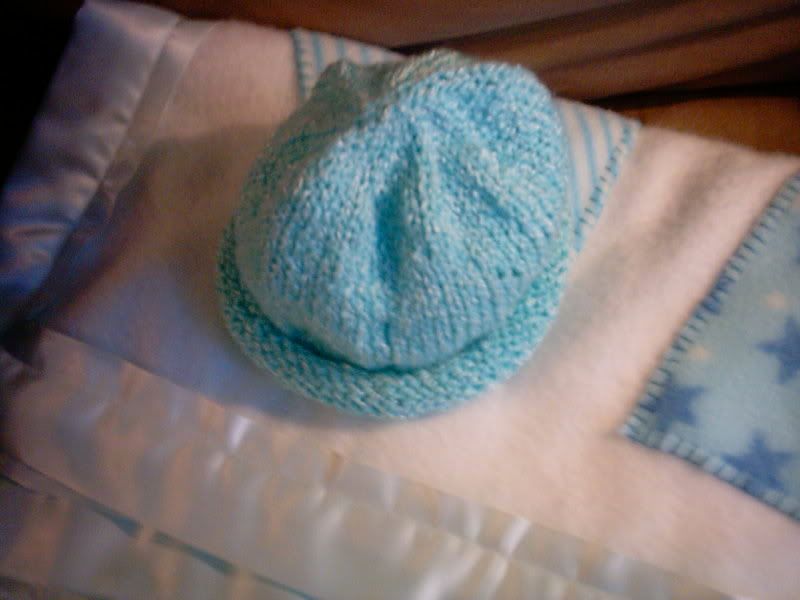 Yarn:
Bernat Baby Coordinates
in Soft Turquoise (75% acrylic, 22% acetate, 3% nylon)
Pattern: umbilical cord hat from
Stitch 'n Bitch: The Knitter's Handbook
Changes: I used dpns for the whole thing and left off the umbilical cord
Yardage: not very much, maybe 50 yards?
Needles: US size 7 dpns
Start/End Date: Started on April 5, 2007 and finished on April 19, 2007
Notes: I had a hard time finding size 7-16 inch circulars, so used the dpns instead. My lack of skill with the dpns would be fairly obvious to a knitter, since there is some laddering and one place where I messed up (some stitches fell off in my bag and I think I picked them up incorrectly) leaving a small gap. Thankfully the recipients are not knitters. :)
Just a warning to others, this yarn creates a very open knitted fabric, which I'm not crazy about. This could be partly due to my rather loose knitting, but I think the quality of the yarn also contributes. If I were to make another hat from this yarn I would probaby go down a needle size or two. It should still work as a nice spring/summer hat, though. On the other hand, the yarn is definitely quite a bargain. I've made about 4 hats (3 crochet, 1 knit) and I have plenty of yarn left for some booties, all for about $4.
Labels: FO 2007