Reports of my death....
are greatly exaggerated. - Mark Twain
So, yah, I'm not actually dead, just distracted. This past week and half it was difficult to get any blogging (reading or posting) done, for several reasons. First, I had a wonderful, crafty visitor. My good friend K was visiting from New York, and we spent lots of time together discussing projects, visiting craft shops, and seeing the sights of Southern California. There's nothing like hanging out with someone as entranced with crafty stuff as you! Despite my vow of a yarn diet until we move into our new house, a couple skeins did manage to follow me home. I needed yarn to make the
8-ball tea cozy
from
SnB Nation
for a good friend. Is he a fan of tea you ask? Well, no, not to my knowledge. He is, however, a pool shark, and upon learning that I had gone gaga for knitting asked in his best Philly accent, "so, you like make tea cozies and stuff then?" A perfect opportunity for a tea cozy with irony, if you ask me. I have no doubt that he will display it with pride. Here is the yarn I picked, some nice black and white Cascade 220: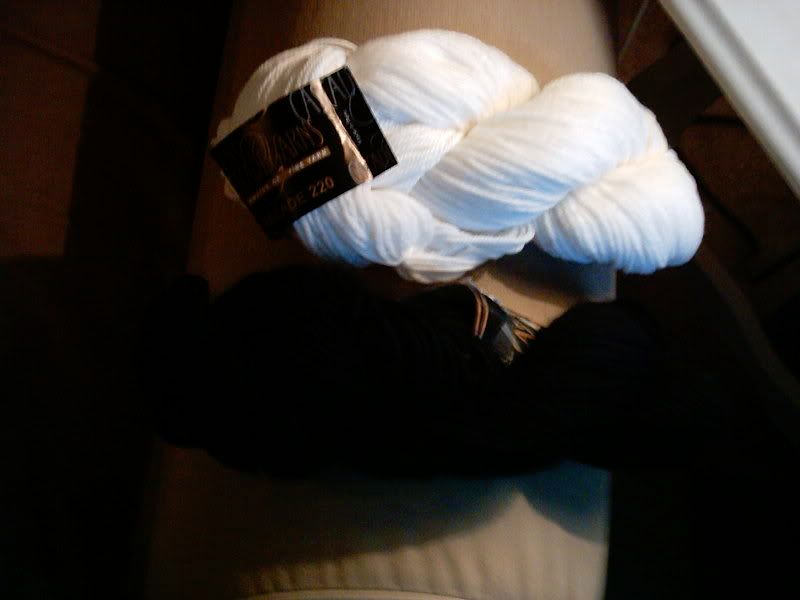 And the other reason I have been MIA? Classes are starting in a week! Today I finally finished putting the final touches on my syllabi and have been tweaking my first week lectures. I also read over my course evaluations for fall of last year to get some pointers, since I am teaching the same schedule. They were mostly positive and the critiques were either things I had planned to address or are just differences of opinion (yes, I do go through a lot of information, but this is a high level class people so get over it). All my courses are completely full, so this semester will likely be a handful! Hopefully, once I get into the swing of things I will have more time to blog (it's a great way to avoid grading ;)
And finally, I have been nominated by jenfrom RI at
Newton's Knitting
as a Rockin' Girl Blogger! I feel a bit shy of "rockin" lately, but I'll do my best to live up to the title.

Labels: New Projects