Starting People
Babies are such a nice way to start people. ~Don Herrold
Thanks for all the wonderful congratulations on the baby! We waited a long time for this, and are both so thrilled (along with our families, who are beside themselves with excitement). We required a lot of medical assistance for this baby, and I feel very lucky to live in a day and age when my medical problems didn't prevent us from starting a family.
I am due in mid-March and am nearly four months along, which makes me very happy. The first trimester was full of nausea and exhaustion. I'm pretty sure that the person who first used the saying "sick and tired" was referring to being pregnant. The second trimester I've had a lot more energy and very little nausea. (Yippee!) I'm optimistic that this will mean a lot more knitting for the next 3 months or so.
It's been a little chilly here in sunny, southern California, so I've been working on my
Le Slouch
. The seed stitch is rather slow going, but it is looking pretty cute: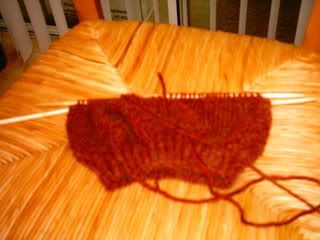 I hope to finish my Le Slouch in the next couple weeks. I had also started a baby kimono in yellow (we don't know the sex of the baby yet), but I'm worried about the fit after reading about
Theresa's experience
. I may just frog it and start something new instead. Any suggestions for some really great baby sweater patterns?