Goodies from the North
So, awhile back Jennifer from
Handmade by Jennifer
said that during a birthday book buying spree she had somehow ended up with two of the same book, and she was looking to trade. A book called
"Easy Baby Knits"
seemed right up my alley, so I searched my stash for something worthy to offer. Turns out that I have much less to offer than I realized (how embarrassing), so instead of yarn I offered chocolate. I was hoping she would agree since it was not just any chocolate, but the world-famous
See's Chocolates
. So, I bought a nice-sized box of chocolates, grabbed a couple of skeins of hand-dyed Brown Sheep Lamb's Pride worsted and sent them off to Canada.
Meanwhile, Jennifer had generously decided that she would add some Montreal goodies in when she sent the book. She asked for my preferences to which I replied "I have a preference for dark chocolate, and I don't care for white chocolate. As for scents I like, I prefer food or natural scents like pine and citrus." As you can see below, she somehow managed to come up with something to fit every single thing I mentioned. There are three chocolate bars, one dark, one regular, and one that is orange and chocolate (yum!), a tin of lovely citrus candies, a pine-scented car freshener, a book of word searches (just for fun), and a lovely card. I definitely got the better end of this deal!
Oh, and let's not forget the book, which is full of adorable baby/toddler patterns. There is a cute jumper and hat set that I absolutely must make!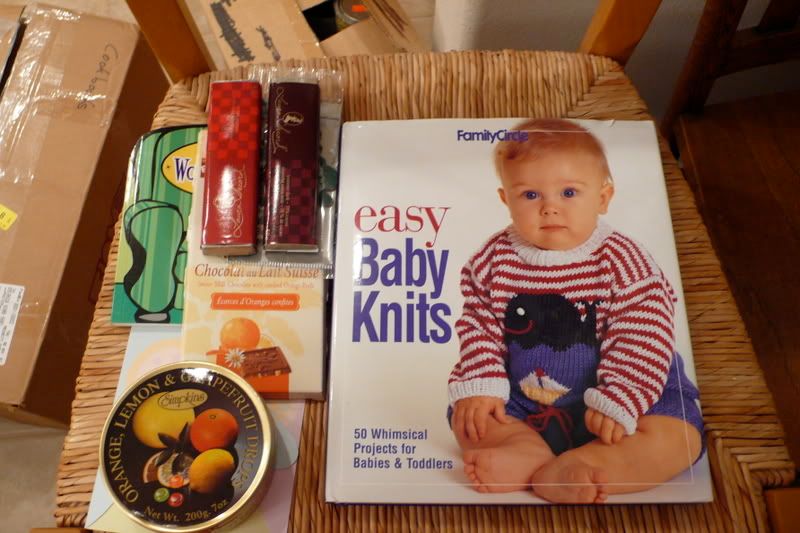 Thanks Jennifer, what a wonderful treat!
Labels: Knitting-Related Gifts