Tis the Season
First, I want to mention that I got a lot of wonderful gifts from friends and family this year (including darling little New Zealand sheepskin slippers for the baby). This generosity is particularly amazing since moving meant that I did a pretty crappy job getting gifts for other people. I will just mention a few of the knitting-related gifts specifically on the blog. First my wonderful husband bought me Nicky Epstein's
Knitting Beyond the Edge
. It has all kinds of wonderful ideas for closures, collars, and necklines and I foresee this being an extremely useful reference book.
Also, my wonderful and crafty friend Kim brought me back some beautiful yarn from New Zealand, complete with a pattern and buttons for a lacy baby garment (left in photo). We were so happy that she was able to visit us briefly as she returned from an around-the-world trip (yes, I have extremely well-traveled friends; it helps me live and exciting life vicariously). My lovely and also crafty friend Jenn got me this fantastic soap in a knitted sock (right in photo). The sock actually felts to fit as you use the soap! Clever, huh? I really wish clothes would work the same away, only that they would expand to fit as you gain weight.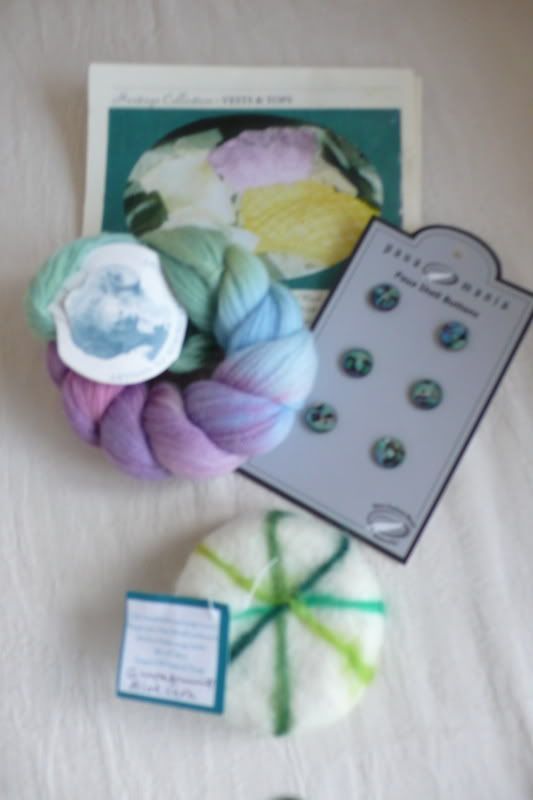 Theresa of
Knitting Underway
, also drove up from San Diego to visit and see our new abode just before Christmas, and if that weren't enough she brought some handknitted gifts! This little pink kimono sweater will be so cute when she needs to "dress up" for an occasion. It's made from machine-washable cotton, so no need to worry if she spits up. Theresa also gave us these adorable felted balls. I'm sure the baby will love gumming and rolling these!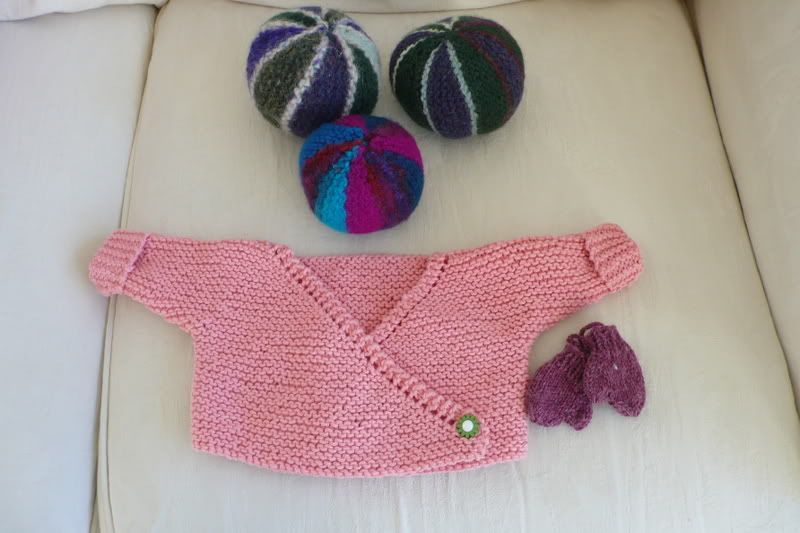 Finally, she made a cute pair of miniature mittens to be used as a Christmas ornament. Here is an action shot of the mittens on our tree: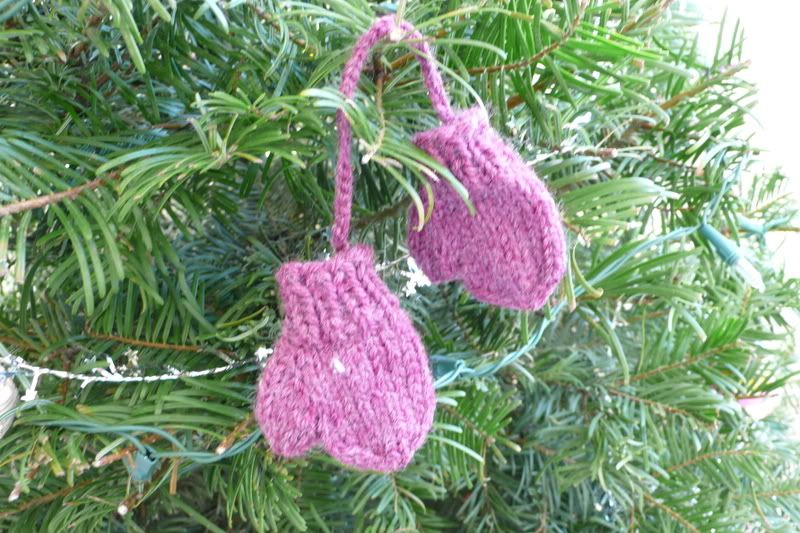 Oh, and you have probably guessed by the color of the kimono and the use of pronouns, we are having a GIRL! I foresee lots of fun knitting in my future.
Labels: baby, Knitting-Related Gifts, pointless blather