Driving Them Crazy
Way before the hubby and I were together, I went to a party hosted by a group of Arabic friends, and all night they played beautiful music from their home countries. During a particularly lovely melody I asked a friend what the song was about. His response was, "it is about a woman who drives a man crazy." Later, I asked about another song, and got the same response, "it is about a woman who drives a man crazy." At first I thought perhaps he was trying to give some subtle hint that I should quit flirting and go out with him already. That may have been the case, but when I started thinking about it that description really does describe a large portion of musical lyrics. Sometimes it's about a man who drives a woman crazy, but same general idea. Just the other day I was reading the
Knitty Professor's
analysis
of an A-Ha song, which is a perfect example of this theme. My advice to you if you are trying to write a hit pop song: it should be about a woman who drives a man crazy (or vice versa).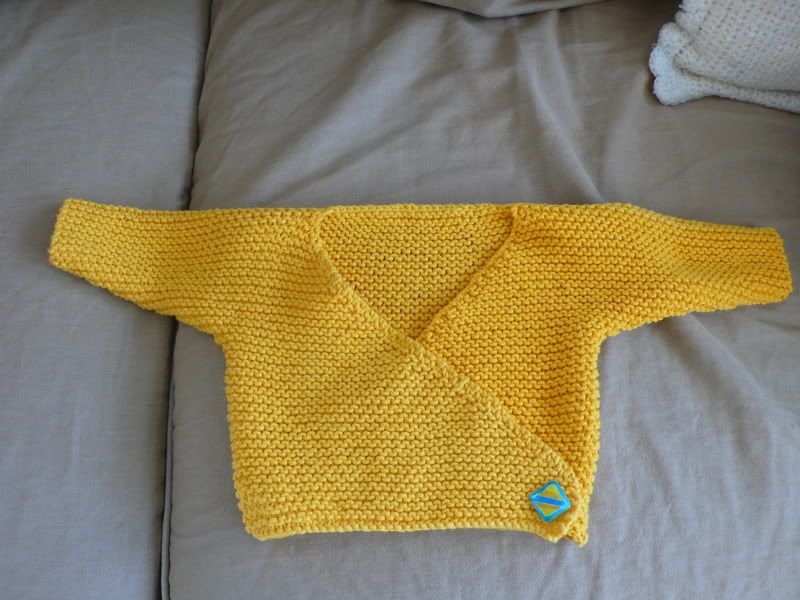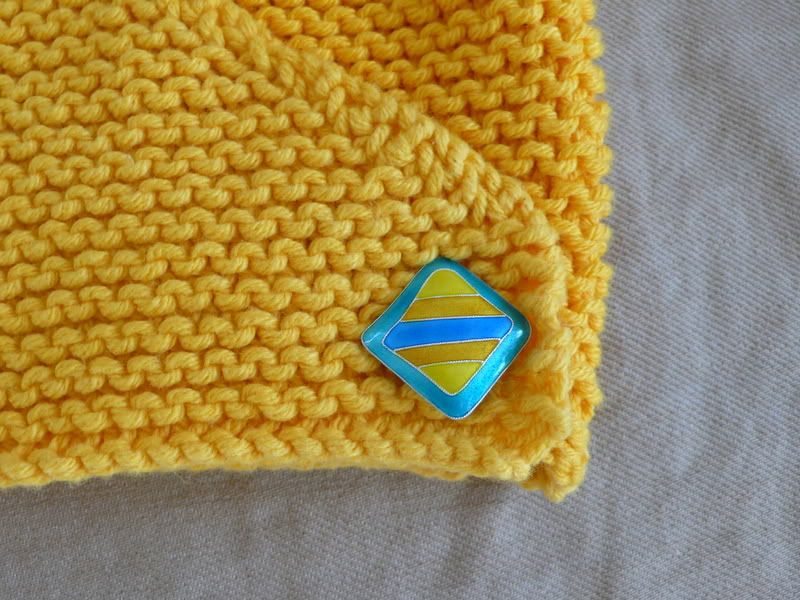 For those of you actually interested in knitting, I have some photos of a completed FO for 2008 and a close-up of the cute button I found for it at the
Alamitos Bay Yarn Company
. They have a pretty good selection of fun buttons, and this one seemed to match the gold perfectly and add some fun color. I have toyed with adding a crochet trim in the blue to add extra punch, but for now I am calling it done. I think I have enough yarn leftover to knit some matching pants. How cute would that be?
Yarn: Cotton-Ease, the old version, in a lovely golden yellow
Pattern: One-Piece Kimono from
Mason-Dixon Knitting
Changes: I made the front and back quite a bit longer, so the proportions would better fit an older baby. I left the sleeves the same length as called for in the pattern, as there have been complaints that they are too long. I also think using a stretchier yarn will make it easy get on and off an infant, always a good thing.
Yardage: About 1 skein, plus a little of a second skein
Needle: US 6 (4 mm)
Time: started in September 2007 and finished the knitting in November 2007. I just wove in all the ends and added the button this past week while on bedrest. (I also sewed on some hidden velcro dots to help keep it closed.)
Notes: The pattern was fun and easy. If I hadn't been obscenely busy with other things, I could have finished it easily in 3-4 weeks even in the larger size and just working on it in evenings. Also, the cuteness factor and fun of choosing a button or ribbon for the closure are never to be underestimated.
Labels: FO 2008, pointless blather