Knitted Gifts for Baby
Our baby shower was just a couple weeks ago, and now that my due date is fast approaching the gifts are starting to arrive from all over. I am always impressed with the generosity of friends and family, and would like to thank everyone for all the wonderful presents for our baby. In particular, she has a lot of beautiful clothing. My poor husband was shocked and dismayed to learn that our unborn baby already has a shoe wardrobe. Such is the joy of having a girl. :)
Since this is a knitting/crafting blog, I will post a few of the fantastic knits/handmade items that we received at the shower and recently. First, I received a wonderful surprise from Jennifer of
Handmade by Jennifer
. I had greatly admired the Hickory Dickory Dot sweater, which she was lucky enough to test knit. Can you believe it, she actually sent it to me! The sweater itself is incredibly cute, but when you add the adorable stuffed mouse for the pocket, well who could possibly resist?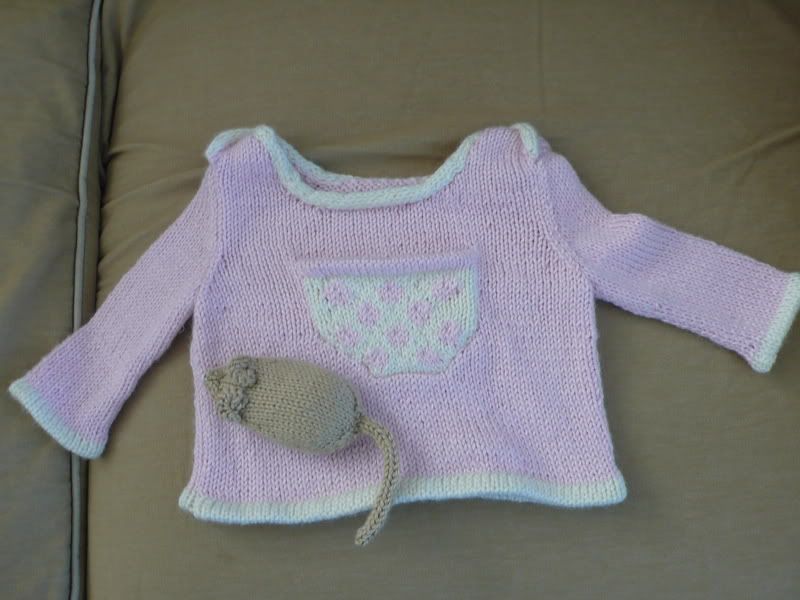 My shower was not only planned by several knitters, but also featured lots of people knitting and lots of knitted gifts. Add to that wonderful friends and fantastic food (Anne of
Crafty Diversions
is a fantastic cook, in case you didn't know), and you have the makings of an awesome party.
First, I received not one but two
February sweaters
! How lucky is that? (and appropriate, since the shower was in February.) The smaller, multicolor sweater was knit by
CraftyCarolyn
and the larger lavender sweater by Theresa of
Knitting Underway
. They are different sizes, which means that our baby will stay stylish as she grows.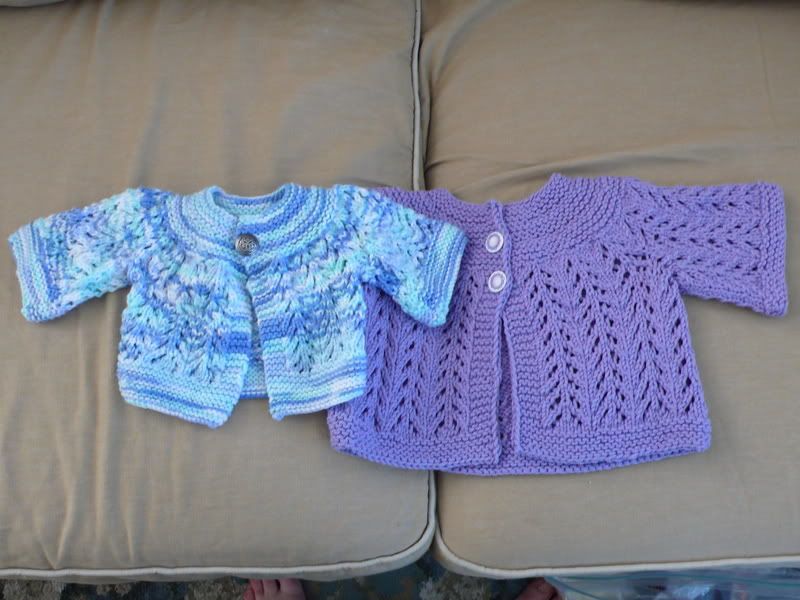 I also received three adorable hats. Two of them included shades of purple, one of my favorite colors. The striped one was knit by Theresa of
Knitting Underway
. The stripes and braided trim are wonderful and I like that it could be for a boy or a girl, just in case this baby has a brother someday. The second hat was knit by my good friend Jenn, and is a version of the
Flore Petal Hat
. Isn't it just the cutest?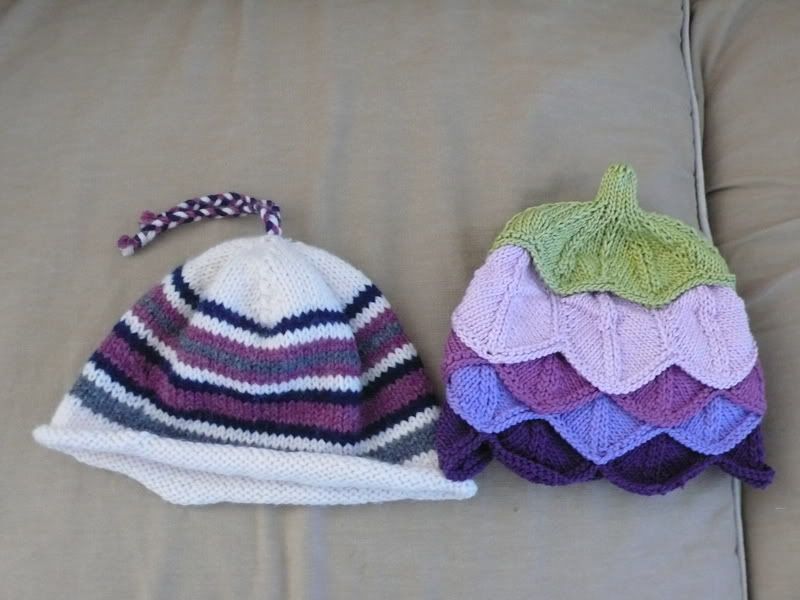 Gwlana
from my knitting group made us a hat with matching baby socks. The hearts and colors are just fantastic!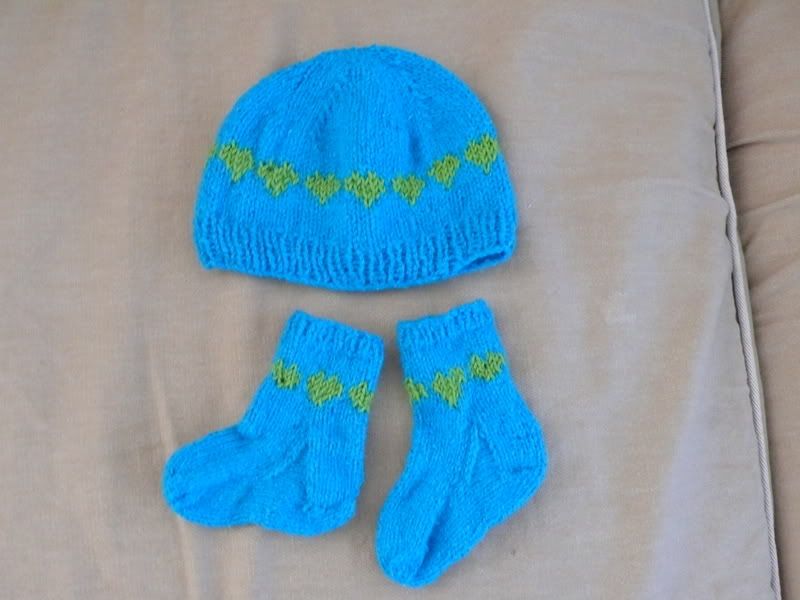 Finally, we also got two gorgeous knitted afghans. The one on the left is from
Marie
from my knitting group and is made of the softest cotton I've ever felt. The colors are just beautiful! The one on the right was knit by wonderful aunt and Godmother, Jackie, who sent a huge package of gifts for the baby. The yellow is so cheerful and shows of the pattern nicely.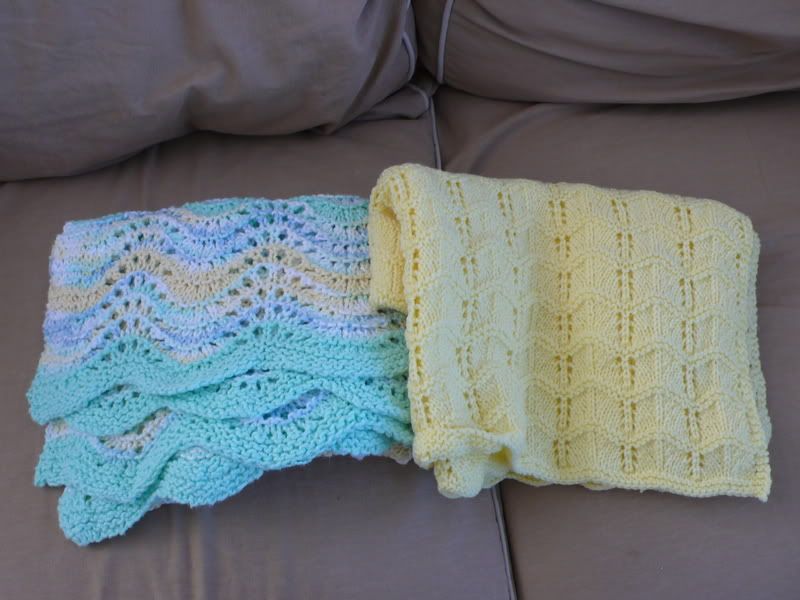 Our baby will never be without a handknit item, which is as it should be.
Labels: baby, Knitting-Related Gifts