Resting On One's Laurels
I had never really thought about what the phrase "resting on your laurels" meant. It harkens back to a time when Roman senators were given crowns of laurels in recognition of their achievements. If someone relies on these previous achievements, rather than working to earn new ones, they would be considered to be resting on their laurels. Despite my current bedrest, I am trying to continue getting work done (yay for laptops!) and spend some quality time knitting and crocheting. So far things are generally going well, and we made it past the "magic" 34-week mark. My restrictions look to be slowly easing up, and I am feeling less worried. In crafting news, some projects are finally finished, and several new things have been started. Here is a photo of my world at the moment: me, the couch, my belly, and my knitting.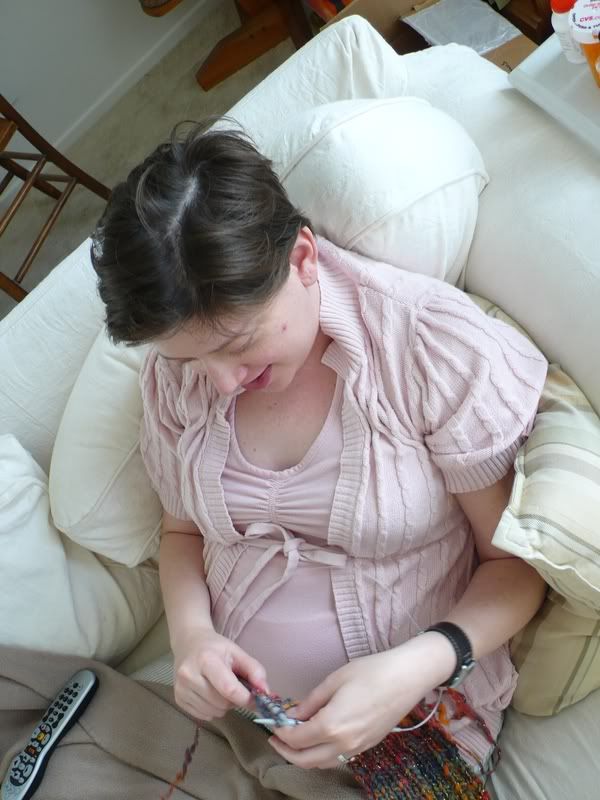 Here is another FO for 2008: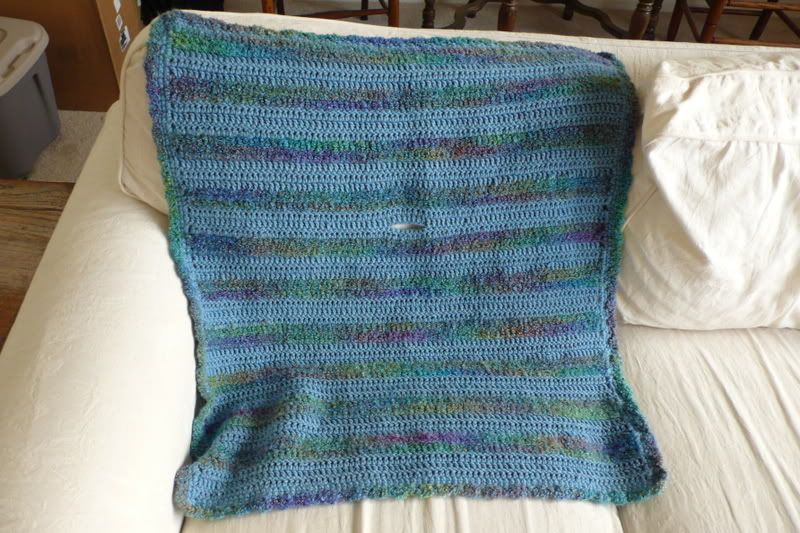 Yarn: Red Heart Super Saver in Country Blue, Lion Brand Color Waves in Windsor
Pattern: Seija blanket pattern in
The Happy Hooker
, with the very clever hole for a carseat or stroller seatbelt
Changes: I added a shell edge and left out the braided trim.
Yardage: 1 skein of each, approximately
Hook: size H
Honestly, I normally wouldn't choose to work with either of these yarns. The Red Heart was predictably scratchy and squeaky and the Color Waves was so fuzzy it was nearly impossible to see the stitches. However, the Red Heart had been in my stash for about 15 years, and the Color Waves was free. Despite the yarn troubles, it has gotten soft with washing and looks pretty cute, I think. The hubby liked it so much, he insisted we keep it for our little one. I am making good progress on some gift knits, inspired by the Loose Knit Group on Ravelry. We are trying to get ahead on holiday gift-giving. I will post on those projects soon.
Labels: baby, FO 2008, Knitalongs