Some Birthday Fun
March 12th was my 35th birthday. I'm not sure if 35 is supposed to be a big one (is 35 the new 25?),but we had a pretty low-key celebration. We went out to dinner and then hung out with my knitting group. At 1:30 am on the 13th I went into labor. Our little girl was kind enough to let me enjoy my birthday contraction-free, and she arrived on my mother's birthday instead. Needless to say she has the favorite grandchild position all sewn up (she's also the first for my side).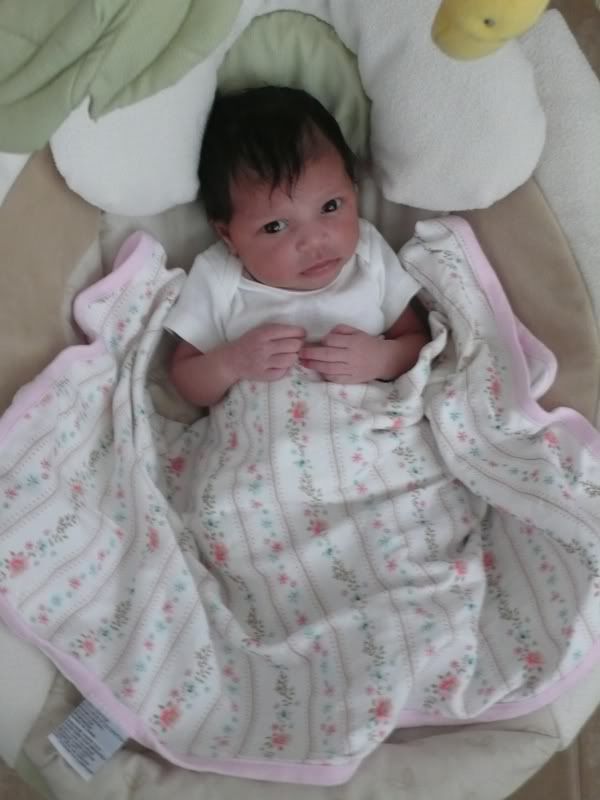 I actually have some FOs to show for my weeks of bed rest. I started and finished several projects, and am now fully over my nonstartitus (inability to start things). I need to give a big thanks to the Loose Knit Group on Ravelry. I am making major progress on my gifts for Christmas 2008!
First, I made this easy ribbed hat for my brother. I plan to make matching fingerless gloves and give this to him for his birthday in December. Not only am I done with a gift well in advance, but this and the gloves should use up some stash yarn.
Yarn: Lion Brand Wool-Ease Solid in Dark Gray and Unger Aries (45% wool/55% acrylic) in Light Gray
Pattern: ribbed cap from
One-Skein Wonders
Changes: I made it longer, because I wanted a cuff (Wisconsin is cold) and my brother has an huge head
Yardage: About half a skein of the light gray and a quarter of the dark gray
Needle: US 7 (4.5 mm)
Time: started January 17, 2008 and finished February 28, 2008.
Notes: This is an extremely easy pattern that is great for using up leftover yarn.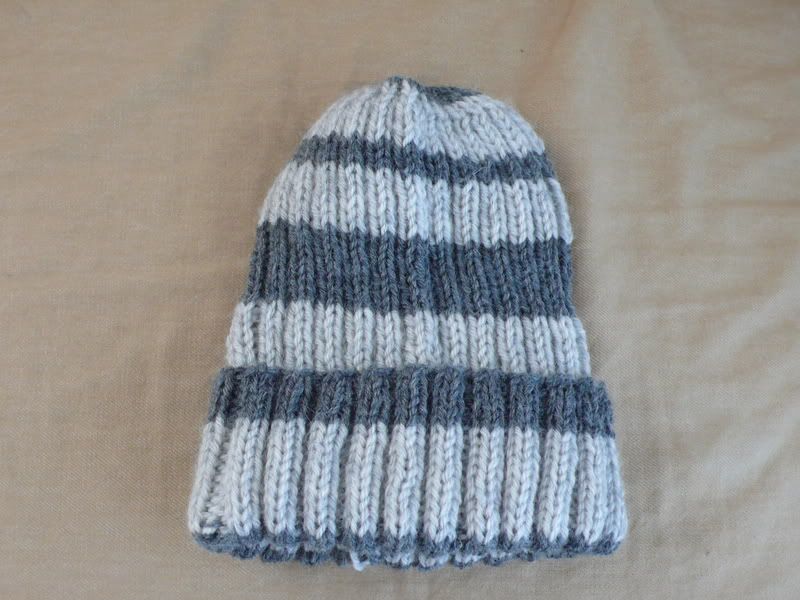 Next, I finished a scarf for a friend in England. I thought the fun yarn would brighten up those gray England winters. This is also a Christmas gift for next year and I plan to make a chunky beret in light green to go with it. I may put just an edge on it in the matching yarn, but I thought a completely matching set would be a bit much.
Yarn: Moda Dea Cache in the colorway Wink
Pattern: 2x2 rib
Yardage: Nearly 4 skeins
Needle: US 11 (8.0 mm)
Time: started January 25, 2008 and finished March 4, 2008.
Notes: This turned out pretty long, so it can be wrapped around the neck to keep out the English chill.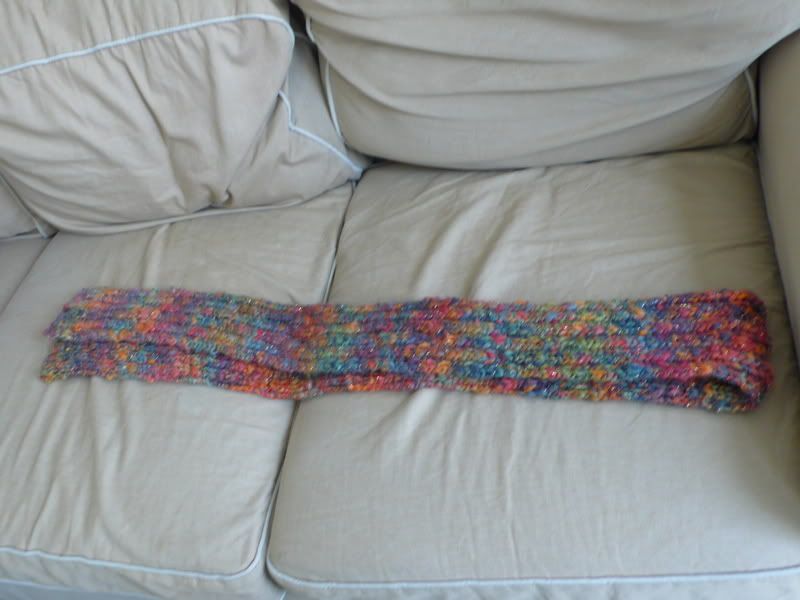 Lastly, two more Seija blankets and the last ones I plan to make for quite some time. I am planning to use all my leftovers from the eight (yes, I've actually made eight of these things!) Seijas to crochet one more baby afghan or two. These final two are gifts for twins, a boy and a girl.
Yarn for Red/Orange Blanket: Caron Simply Soft Shadows in Autumn, Caron Simply Soft in Off-White, Plymouth Encore Worsted in Light Orange
Yarn for Blue/Green Blanket: Caron Simply Soft Shadows in Soft Merino, and Caron Colour Perfect in Woodsy Green and Pine
Pattern: Seija blanket pattern in
The Happy Hooker
, with the very clever hole for a carseat or stroller seatbelt
Changes: I added three rounds of single crochet for the edging and left out the braided trim. I also added a few rows to make it a bit longer and make up for leaving out the double crochet edging at each end.
Yardage: 2 skein of each of the Shadows, 3/4 of the skein of Plymouth Encore, and about a 1/4 of each of the other skeins.
Hook: size H
Time: started January 28, 2008 and finished February 27, 2008.
Notes: These are so easy and the recipients really seem to like them.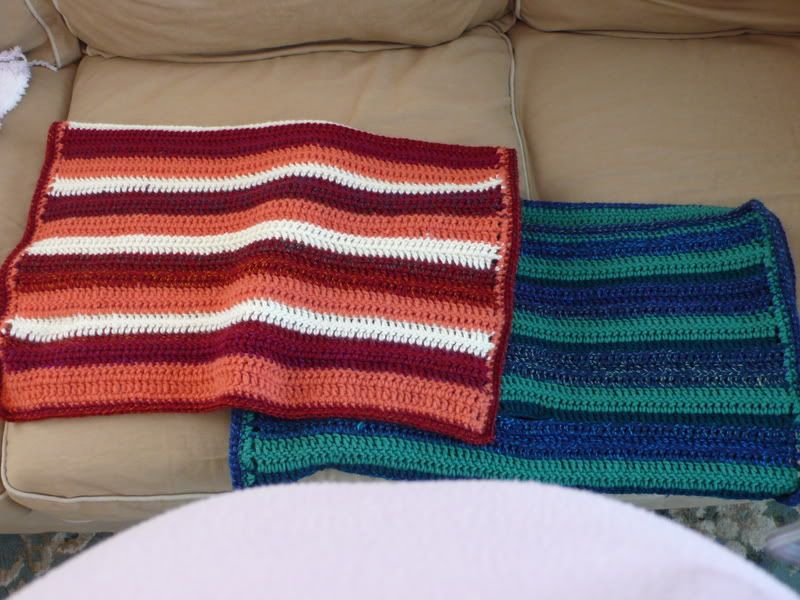 Are you wondering what that large pink obstruction is in the last photo? I know I did. It took me a few seconds to realize it was my pregnant belly getting in the way. My next post will have two FOs for the baby (without the belly obstruction, but perhaps with baby obstruction).