A Meme and UFO Progress
We are battling illness again here, with the hubby trying to get over a bad case of bronchitis. He is slowly improving, and the rest of us have managed to remain illness-free. So in absence of much going on as far as crafting, here is a meme which Jennifer of
Handmade by Jennifer
tagged me for. I won't officially tag anyone else since I took so long getting to it, but if you would like to participate, please feel free.
1. What I was doing 10 years ago: 1998.
I was in graduate school (I was in graduate school for 6 years, so no surprise there). I was newly single after breaking up with my boyfriend and living on my own with no roommate for the first time in a few years. I loved it! I found a great little apartment and spent lots of time decorating it to my tastes. I lived there for three years and still think about that apartment fondly. I really think I learned a lot about myself living on my own and was in a good place when I met my husband a year later.
2. What 5 things are on on my to-do list for today (not in any particular order):
-plan meals for the week
-do a load of laundry
-empty dishwasher
-catch up on blogging
-have a quiet day with RJ (no riding in the car)
3. Snacks I enjoy:
Dark chocolate anything and Miss Vickies Jalepeno chips.
4. Things I would do if I was a billionaire:
Travel, travel, travel. In first class, of course.
5. Places I have lived:
Wisconsin, Minnesota, Iowa, Rhode Island, and California. I've preferred the coasts so far. I love being near the ocean and close to an urban center. But that's just me and every place has its good points and bad points.
I also wanted to show that actual knitting progress is being made, albeit it a snail's pace. We have about three weeks before our next guests arrive, so I hope to make some progress on my projects during that time. First, I am working on
Anouk
using us some worsted weight cotton I had laying around the stash. This is how far I've gotten on one side.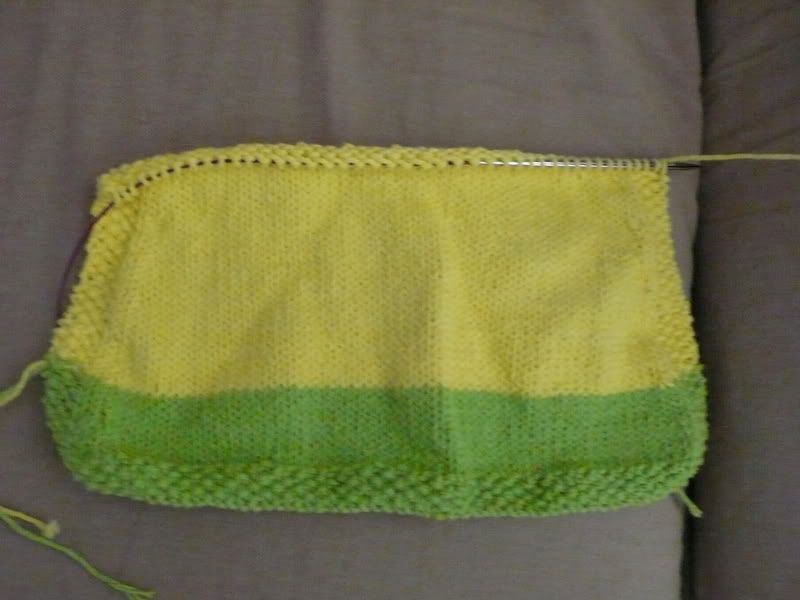 I'm also making progess on the yellow and white
longies
. I'm making those from yellow Cotton-Ease and white Cottontots that were freebies in the stash.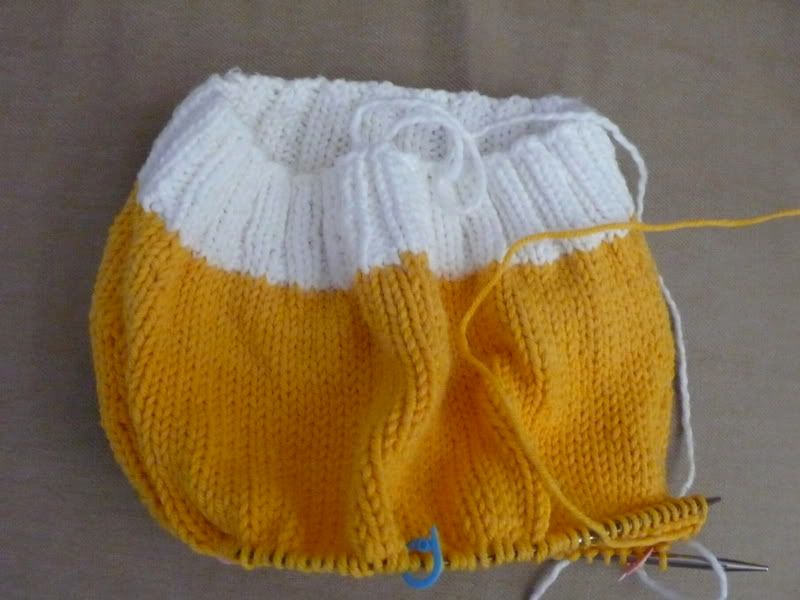 In the next post I will have some new projects to post about
Labels: pointless blather, UFOs