The Cold, Such As It Is
Obviously I'm not following the NaBloPoMo creed to the letter, as I have been unable to post every single day. However, I have been posting more often, so I'd argue that I am following in the spirit of NaBloPoMo. Anyway, I will recap my very busy weekend tomorrow for you. It was a doozy, with nearby fires and a huge party inspired by Harry Potter.
Lately, we've finally been getting some "cold" weather here is SoCal. Maybe not so much this past weekend, but the week or two before. It's been just chilly enough in the mornings that I've finally been able to let RJ wear a bunch of her cute handknit hats. This is one of the cutest, made by Zona of Twirl Girl Fibers (
ravelry link
). I'm not certain, but I would guess that the yarn was spun and died by Zona as well.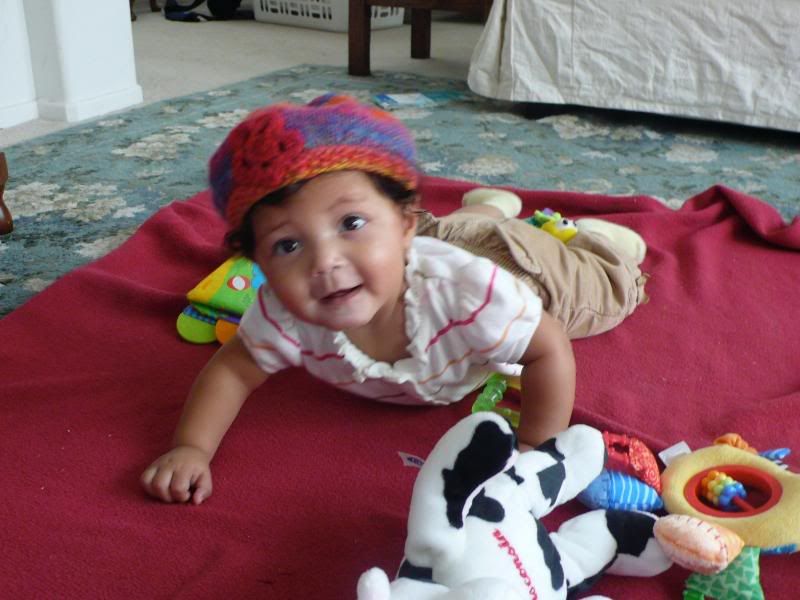 Isn't that adorable? She usually doesn't pull it off, which must mean that it is pretty comfy too. At daycare they wait each day to see which hat she is wearing, since she has so many cute ones. Sadly, the weather is warm again, so no more hats for now. What we really need is some good rain, to put out all these fires!
Labels: Knitting-Related Gifts, RJ