A Swimmingly Good Halloween
I don't know about all of you, but we had a wonderful Halloween. The hubby and I spent the whole week scrambling at work, and I was doing tons of work in the evenings as well. Ugh! By Friday we needed the break. Thankfully, the wonderful people in our neighborhood had organized a bounce house, snacks, and pizza for everyone. RJ had a blast watching all the other kids play. We got her dressed up in her costume and even took her trick-or-treating to a few houses. (She kindly gave all her candy to me ;) Here she is as the cutest guppy on the block: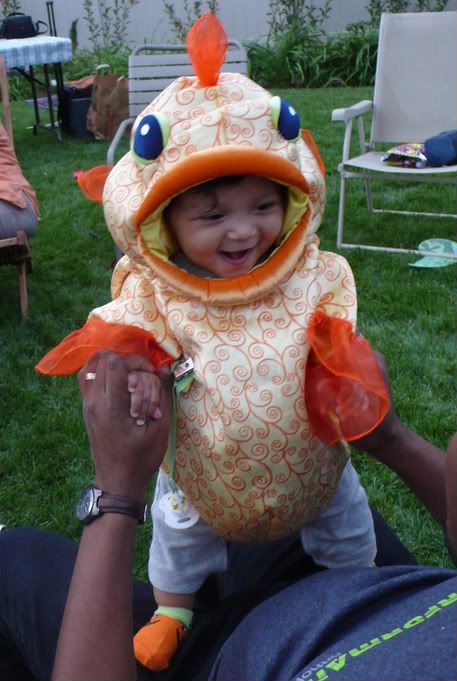 As for the crafting content of the blog, I am thinking I may frog these pants:
The proportions aren't coming out right (too big in the butt, probably because they are meant to be worn with cloth diapers), and I think I may run short of yarn. Sadly, I think this yarn needs to be something else. Instead of working on my knitting projects, last week I designed a small fall-themed item for RJ. It is a project using the "C" word rather than knitting (that's crochet for all you non-crafters). That project may show up here soon, once I had a few more finishing touches.