Feeling Behind
You know things are bad when you start to feel like you're even behind in your craft projects. I was just barely keeping up with work and home stuff before I broke my foot, and the broken foot really took off my stride, literally and figuratively. I have spent the last couple weeks struggling to catch up again, and I think one more week ought to put me back where I started at least.
With knitting projects, even though you tell yourself that it doesn't really matter how quickly you finish, sometimes it really does matter. Say, for example, when you're knitting something for a growing child. What I've learned is that I should start things about a year before I actually want RJ to wear them, just to make sure I finish in time. Luckily, I knit a bit loose so things end up a bit bigger anyway (gauge swatches for baby clothes seems like a waste of time to me). After almost a year, I am nearly finished with Anouk for RJ. All that's left to do is weave in the ends and sew on the buttons. Very nearly an FO.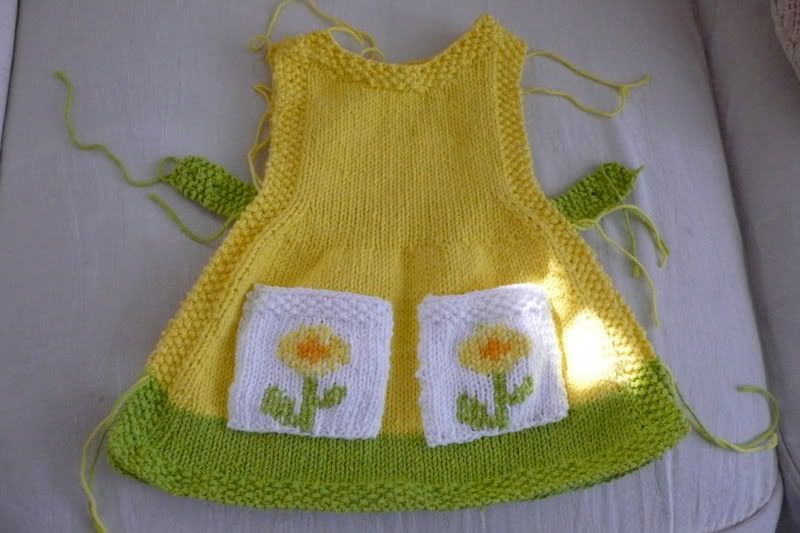 I have to say that it is wicked cute and a really fun pattern. Due to the dress/shirt versatility, the fact that it took me a year isn't too awful. Even though I chose to knit the 3 month size (yikes! she's nearly a year old!), thanks to my loose gauge and good pattern design it still fits. It's probably a bit on the short side for dress, but it should look really cute over leggings and onesie (and I've already bought them to match). I am tempted to go through my stash and pick out some yarn for a winter version, in a much bigger size of course. It would look cute in green and burnt orange for fall, don't you think?
Labels: UFOs