UFOs to FOs
I finally seem to be making some progress on my knitting projects. One of my New Year's resolutions was to make more time for my knitting. I have to admit that I wasn't having much luck initially, but lately I've been taking my projects with whenever I can, and doing things like knitting while my students take their exams and during meetings. As a result, I give you RJ's
Yellow Anouk
(Ravelry Link) and her birthday dress.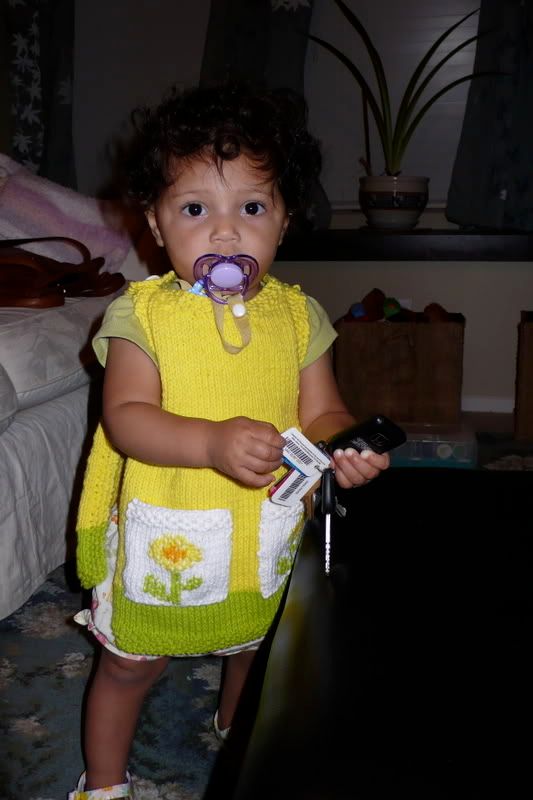 Yarn: Bernat Handicrafter Cotton in colorway 56 (yellow), Lily Sugar'n Cream in white and hot verde
Pattern:
Anouk
by Kate Gilbert in size 3 months
Changes: None, I knit the pattern as written, but my gauge was a bit loose so it came out big (good thing since it took me so long to finish)
Yardage: 2.5 skein (200 yards) yellow, half a skein of the white and green (60 yards), and a small amount of the orange
Needle: US 6
Time: Started April 2008 and finished February 2009
Notes: This was a lot of fun to knit. If I hadn't had the small infant to take care of, it would have been a quick knit too (but of course without her then there would have been no point in making it ;). My color combo is a little less bold than the original, but I like it's cheerful, springy feel.
I finished this just in time for RJ's first birthday! I plan to have her wear it for her party tomorrow. I will post photos next week of her party and another FO.
Labels: FO 2009