More FOs
Keeping up with the blog has been pretty difficult lately. Despite being on spring break, I am just finishing up grading 42 papers for one class and have 70 more to go between two of my other classes. I am also pushing hard to collect some data for a conference presentation in May. As if that weren't enough, both RJ and the husband have been suffering from antibiotic-resistant infections. For RJ, her bout of illness culminated with her throwing up all over me on Tuesday night. Parenting is not for sissies. They both seem to be improving now, which is a relief.
On the crafting front, I have lots of knitting progress to show. First, I finally seamed the Sirdar Snowflake sweater, so it is officially done! Technically it still needs buttons, but that's the fun part. It turned our pretty cute, even though this photo makes it look a bit deformed. I had a better photo, but for some weird reason it was corrupted and wouldn't show. Anyway, the yarn is very soft, but terrible to work with. The good news is that it would be impossible to pick out a mistake in this yarn.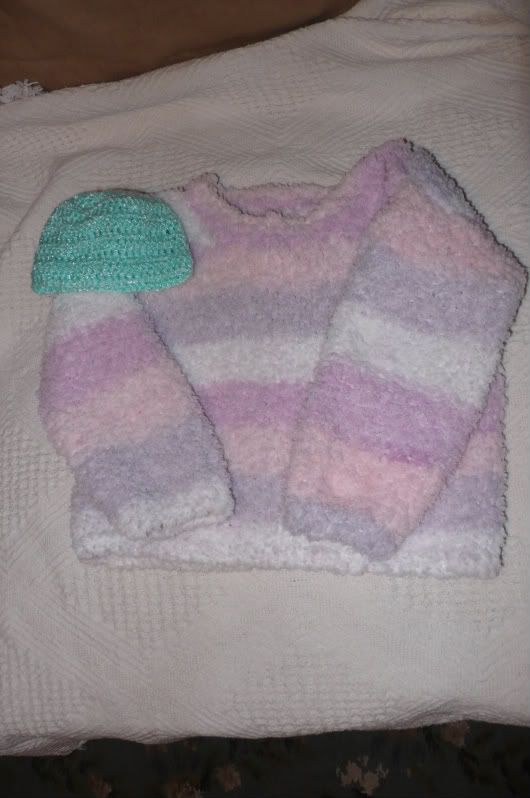 Yarn: Sirdar Snowflake Chunky
Pattern: The sweater from the $3.50 pamphlet specifically for this yarn
Changes: None, I knit the pattern as written
Yardage: 2 skeins (274 yards)
Needle: US 9
Time: Started January 2008 and finished February 2009 (but the knitting was done long before that, I was just avoiding the seaming)
I also crocheted a newborn hat for a friend who just had a baby. It's so hard to believe that RJ was ever this small!
Labels: FO 2009