Katja for My Princess
I don't suppose it comes as a surprise to those of you who know us that we are spoiling our little girl. We are now suffering the consequences, as we try to train her to sleep in her own bed and not ours starting this week. The result is that none of us are getting much sleep. Before she was born we vowed that our bed would be off-limits. During the first few months she slept in our room, but had her own bed. Once she moved to her crib we were doing just OK with our vow, only bringing her into our bed around 5:00 am or so, just until she woke up for the day. Then I broke my foot, and she has slowly been taking over our bed ever since.
I am also spoiling her in the knits department, but to be entirely truthful baby knits are so much fun that knitting projects for her are just as much for my enjoyment as they are for her. Gauge, what's gauge? As long as it's bigger than she is now, it will fit her someday. Also, a child can wear lots of things that are no-no's for adults. Garishly bright colors? No problem! Slightly see-through? Throw on a onesie and leggings underneath! Baby knits are also a great way to use up small amounts of yarn or have fun with a yarn that would cost too much to buy in a quantity large enough for an adult sweater.
With that in mind, I am currently working on
katja
from Knitty, Spring 2006. Could I wear a knitted halter? Probably not. But on a tiny little girl, this will look too cute. I started with a small ball of a silk/cotton blend yarn in a lovely mauve/pink color that I Marie passed along to me. I then bought two skeins of Dale of Norway Svale, which is a cotton/silk/rayon blend. It has just a bit of shimmer and the color is a rich, dusty purple. The result so far is this: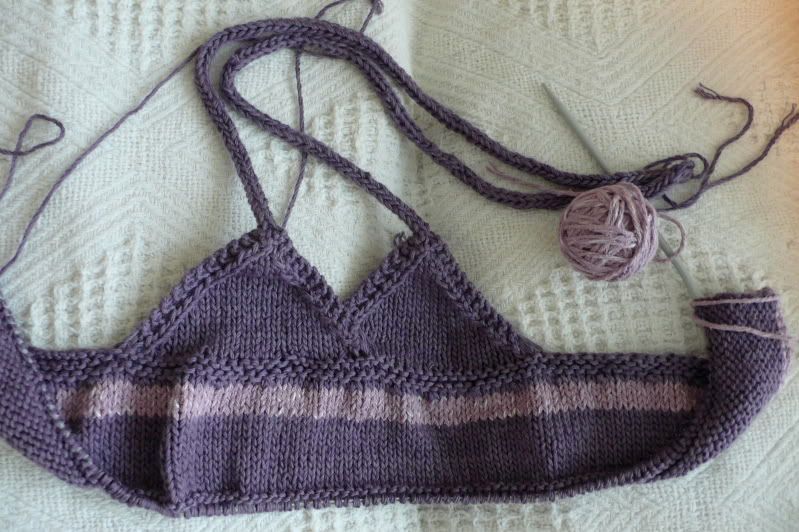 I think it looks girly, but not too cutesy. I have enough of the pink to do the bottom band as well. I think the two colors add a bit more interest. I hope to finish this soon so she can wear while we visit my family in Wisconsin in July.
Labels: Cool Pattern, New Projects, RJ