The Ravelympics 2010
As you may have guessed from the title, I am competing in the Ravelympics. This is the Knitting Olympics on
Ravelry
, for those who don't know. The goal is to cast on during opening ceremonies and complete your project by closing ceremonies of the Winter Olympics to earn a gold medal. It's all quite fun and I participated in 2006 (sort of; it's a long story). I was going to avoid it this year, but then my friend who is a pattern designer (Ann Kuo Lukito of
Crafty Diversions
) was sponsoring a KAL for the Ravelympics. Just knit one of her patterns and you qualified for a drawing for $40 worth of hand-picked (by Ann) knitting items. I remembered that I had some mohair that she dyed for me and some Frog Tree merino that I had purchased to go along with it:
I had planned to use the yarn to make Ann's pattern,
Linh's Ivy
(this is a Ravelry link, but you can also find the pattern free on the Crafty Diversion website), so it seemed silly not to participate. I am actually enjoying the knitting and the competition quite a bit. I joined the team for my Ravelry Group
Motherhood Later
(go team!) Here is my progress on the scarf (for the Scarf Super G event) as of Monday.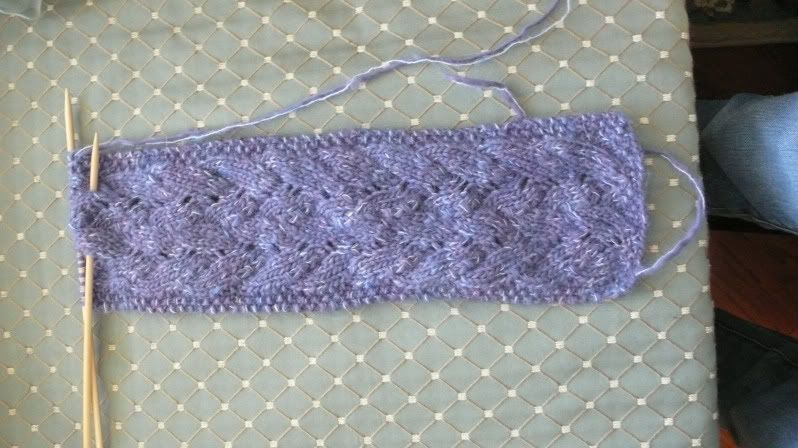 By Sunday I was feeling pretty cocky about my progress and decided to enter another "event", the WIPs Dancing. What a great way to finish one of my UFOs! That has not gone as well as my soft, beautiful scarf. The tragic details to follow......
Labels: Knitalongs, New Projects