Ultimate Doughnuts
I am currently working very hard to get to get back to healthy eating habits. It seems like once you get used to eating junk food, it's really hard to stop. I nursed RJ for 13 months, and during that time I ate everything, both healthy and unhealthy. Now there's no excuse and just feel like I am setting a bad example for RJ. Quitting cold turkey has been pretty hard though. I must be craving the stuff pretty bad, because the other day I was on my way to Jo-Ann's for some craft supplies and I read this on the sign "Ultimate Doughnuts." I thought to myself "woohoo, I could really use an ultimate doughnut!" A moment later I read the sign again and realized it said "Ultimate Discounts." So much for the chocolate doughnut I was craving, which was probably a good thing.
I mentioned that I had actual FO's to report, despite a lack of knitting time. I have to confess that two projects are dishcloths, so don't get too excited. So here is one, the
Reverse Miter Dishcloth
(Ravelry link). I used Vickie Howell Collection Organic Cotton and Milk yarn, which is discontinued I am pretty sure. I got it donated from a friend for my gift project. I am trying to knit dishcloths for RJ's teachers. I started last January, so this is taking awhile, but dishcloths are fun so I'm not too concerned. The yarn was definitely thinner than worsted, so I chose a pattern that could be adjusted in size as you went along. The reverse miter cloth pattern was perfect for it and I was able to use pretty much the entire skein, so no waste.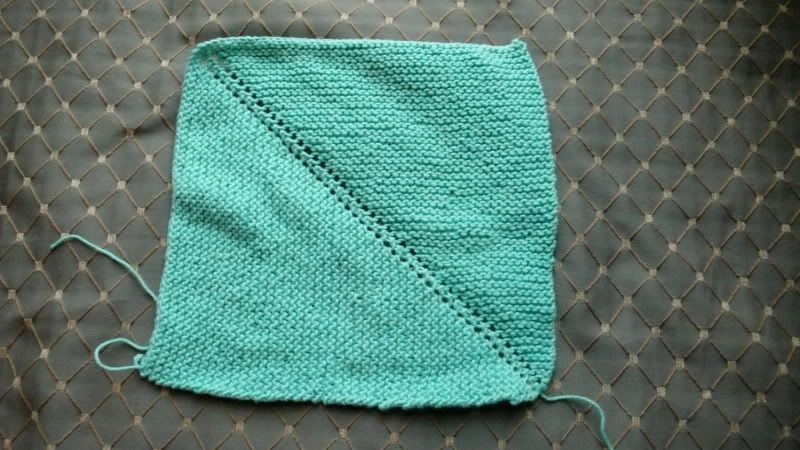 Labels: FO 2009, pointless blather