Katja finished!
Once again I've managed to fall behind in my posting. I've been knitting and obsessing about yarn, but I think it's a reaction to being a bit stressed out and not just for the love of knitting. I have a huge pile of grading that I am making almost no progress on and I am in charge of one of my department's signature events which is happening next Tuesday (yikes!).
Anyway, here is my
Katja
(ravelry link), which I actually finished knitting in December and did the seaming in January. The pattern is
here
. I just finally got RJ to pose for some photos: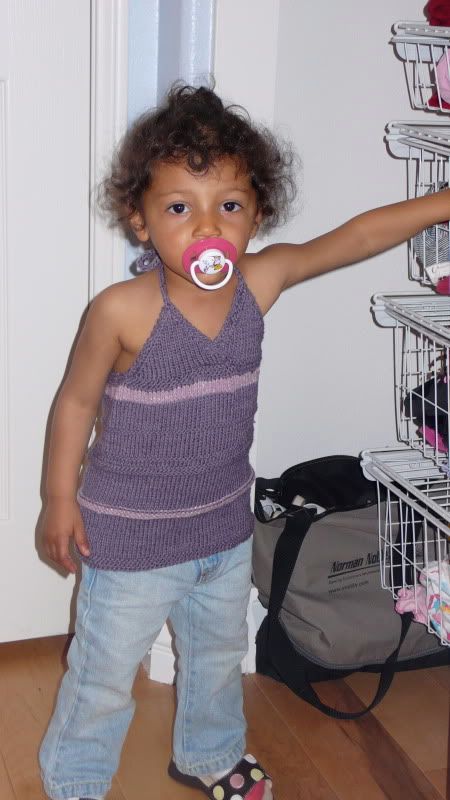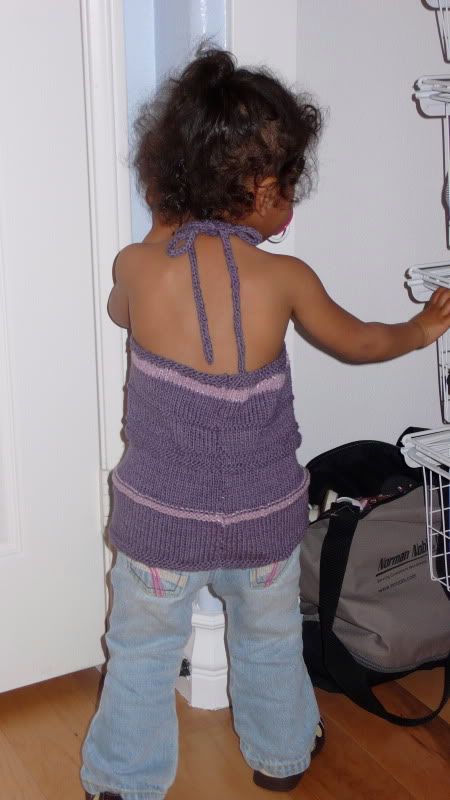 I used mostly Dale of Norway Svale, a blend of cotton, silk and rayon. It's perfect for a summer top. I liked it even though it was a bit splitty, because it looks just a touch shimmery and luscious when knit. The lighter mauve was a small bit of silk yarn that someone gifted me and I think it adds a bit of interest to the top. I just bought her striped bicycle shorts and flowered leggings that can be worn under, although it looks cute with jeans too.
I found the pattern really easy and cute, and think it fits RJ fairly well. However, in full disclosure I knit the 12 month size for my 2-year-old, which may have alleviated some of the bagginess issues others have had (according to Ravelry notes, anyway). Partly that was a conscious choice based on my daughter's size, and partly it's because I'm a slow knitter (or too busy with other things, probably both). I then added A LOT to the bottom, so it would be more of a tunic top and fit my long, skinny girl. The bottom edge is a bit tight, so next time I will bind off more loosely, or use a stretchy bind-off. I am happy enough with it that I plan to make another, but in a larger size for next year.
Labels: FO 2010