Summer Projects
As you have probably noticed I am not keeping up with my blog posting as well I'd hoped. In the beginning of the summer I was teaching, and that seemed to take up all my time. Within a couple days of my class ending, we left on vacation to visit my husband's family in Trinidad for two weeks. What a whirlwind! (I will post details and photos of our vacation later.) What has really taken up most of my time, however, is that I'M PREGNANT! I am due in January, and we are quite excited to be giving RJ a younger sibling. I have had a few ultrasounds already, so we just found out that we are having a GIRL! We would be thrilled either way, but knowing the sex allowed me to buy some yarn just for this baby. So I got some beautiful lavender space-dyed cotton by Punta Yarns:
After I bought the yarn, I remembered that RJ had two lavender handknit sweaters that she would be passing down, but it is such a lovely color and so soft that I'm not too upset. I got the yarn at the lovely yarn shop
Loop and Leaf
in Santa Barbara. We spent the weekend in Santa Barbara for a wedding and had a wonderful time. Here is RJ at the wedding, looking adorable in her orange dress: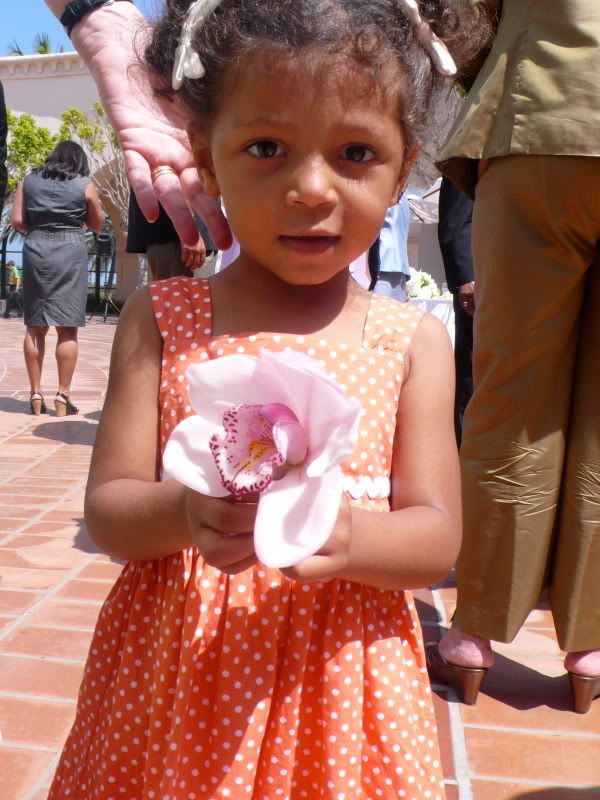 I have FOs, and other summer vacation photos to post, so hopefully I will catch up on things soon.
Labels: baby, pointless blather, Yarn Stash