Every Day Can Be a Beauty Pageant
I met up with a wonderful group of crafters this week: The "All Things String" group that meets weekly in Orange. What a great bunch of people! They had lots of great info about local yarn shops, quilting stores, etc. There was a large contingent of knitters, which is fantastic. Even better, there were also some people doing crochet, embroidery, etc. It's so nice to find a group that doesn't discriminate. ;)I definitely plan to join them again next week.
Aside from a very busy week at work, I did make some progress in knitting (a few centimeters on the sleeve of the Schachenmayr sweater) and my living room curtains are coming along.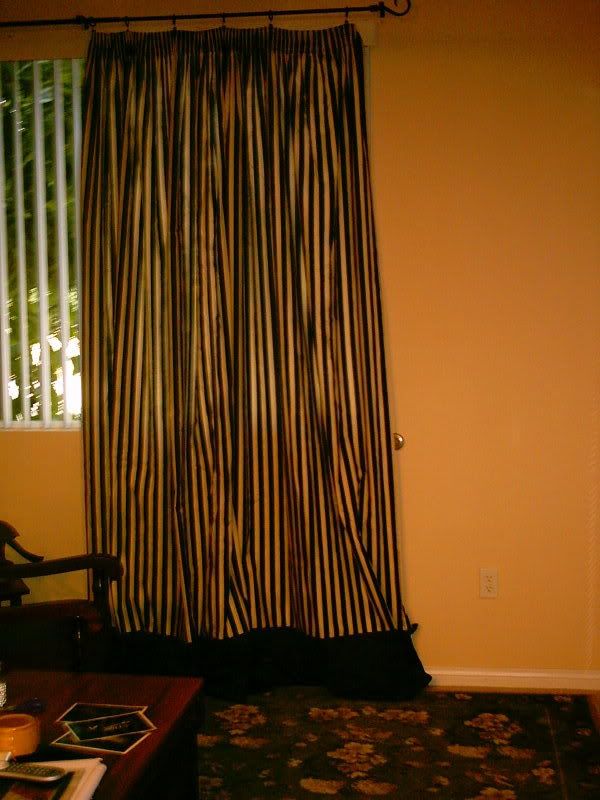 I added the blue band at the bottom, so they actually reach the floor. I think they actually look better with the solid color at the bottom.
I find that having cable again after four and half years is quite an educational experience. On the style network, while working on one of sewing the last patches of the
baby blankets
, I discovered a show called
"Instant Beauty Pageant"
. This is a reality TV show in which they ambush 6 women at the mall, give them $500 and 3 hours to prepare for a beauty pageant. They do the swimsuit, talent, and evening gown competition in front of an audience of mallgoers, family, and friends. Maybe this is a good lesson for life. I feel like now I should always leave the house prepared for a beauty pageant: Big smile, lots of makeup, musical number prepared. If you'll excuse me, I have to memorize all the words to the "Memory" from
Cats
.