The Blue Period
I know we live in the modern age, but why do students insist on contacting their professors using their personal e-mail addresses? I know this doesn't sound horrible, but these e-mail addresses sometimes include nicknames you really don't want your professors to see. For example, 2sexy4U@yahoo.com or hotnhorny@gmail.com. Why would you send an e-mail to your professor from that address? Apparently it's true, common sense is officially dead.
And here's a sure sign that I am not immune to the death of common sense. I know I should just donate/give away my old acrylic yarn. I have a small, but nice stash of good quality yarns, acquired within the past couple years. But, my
incredible cheapness
frugal nature won't allow me to part with perfectly good craft items. As a reference point, it took me 8 years to finally part with the
giant wooden bow
, and I'm still convinced that I will be crafting in the not too distant future and realize that what I really need is a giant wooden bow to complete my project.
Anyway, my friends and colleagues are procreating at an alarming rate, so I need to make lots of baby gifts. Just take a look at my "other craft project" progress bars if you need proof. I have no less than four baby projects currently underway, and have purchased materials for several more. So, this weekend I bought some very washable and soft Caron Simply Soft to coordinate with a couple skeins of my old acrylic and I am now attempting to whip an easy crochet baby afgan. Frankly, when I took the yarn personality quiz it turned out that I'm acrylic, so I guess it's fitting. If this one comes out OK, you can expect to see several more baby afgans, at least until I use up the bulk of the 10 or so skeins of acrylic I have left.
The pattern is the Seija baby blanket pattern from
The Happy Hooker
, which cleverly has a seatbelt hole for car seats or strollers. I can even make a cute matching hat. I think the blue/white scheme is turning out quite nicely.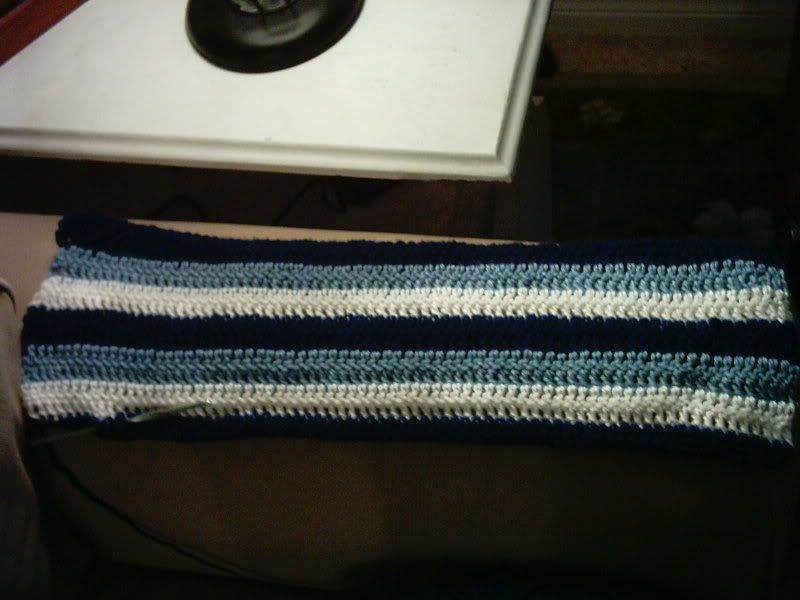 Yes,
another
blue item. Perhaps fellow crafters will start referring to this as my "blue period?"