Comfortable Shoes
There is a quote from the tv show "Cheers" in which Cliff Clavin (John Ratzenberger) says that the key to all the great thinkers is comfortable shoes. He even has examples: Socrates, sandles; Einstein, a comfortable loafer. It's hard to argue with that kind of logic. Last week was a bad foot week for me. Two days I managed to wear footwear that gave me blisters. This past weekend in frustration I bought three new pairs of comfortable shoes. I feel that even after a few days with my new shoes my thoughts are actually sharper. I sense a new brilliant theory is just around the corner! If only I could afford a pedicure I'm sure I could figure out cold fusion! OK, perhaps I exaggerate somewhat, but my feet really do feel better.
You know what else make me feel better? Chocolate. Since moving to California I have discovered the wonder of
See's
chocolates. Below you can see my Easter loot, which includes a nice big box of See's dark chocolate mix. Even though it wasn't delivered by an abnormally large rabbit that inexplicably clucks and lays eggs, it was quite a good haul. As you can see, I also got some peeps. Admittedly, they really don't taste all that good and they leave your tongue yellow for several days, but it just isn't Easter without them, you know? But really, all this showing of Easter goodies was just an excuse to make my newest baby blanket look more exciting.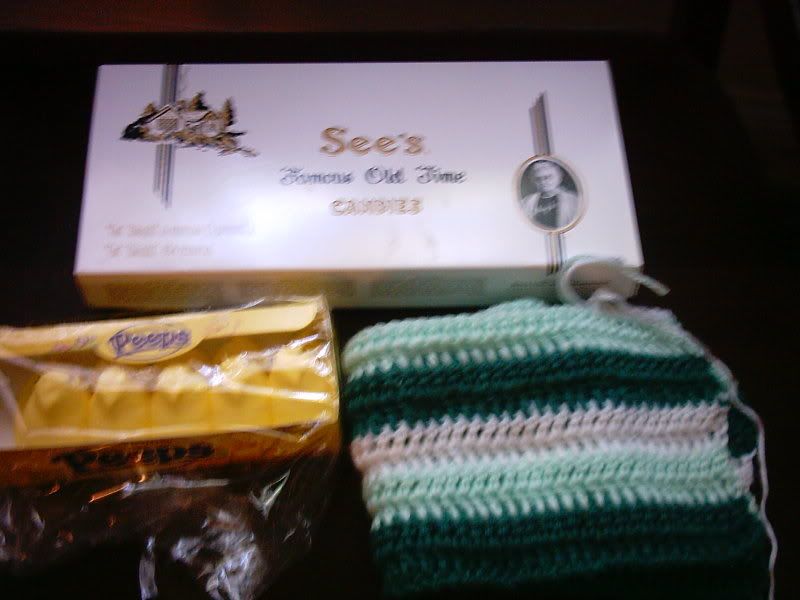 Yes, it's yet another
Seija
blanket
from
The Happy Hooker
(I really cannot recommend this book enough, even if you only crochet a little). This time, I've gone for a dark teal, mint green, and white. I've been feeling in a minty mood lately, as you may have noticed.
Labels: UFOs