Creativity
"College isn't the place to go for ideas." - Helen Keller
I made the typical rookie mistake with
my first sweater
, buying exactly as much yarn as the pattern required. Of course I ran out of yarn partway through the last sleeve, the yarn shop where I had purchased it had gone out of business, and I ended up scouring the web looking for just a couple more balls in the right color.
I learned my lesson, and now always buy a couple extra skeins, just in case. This sometimes leaves me with a couple extra skeins at the end of a project. It's always difficult to decide what to do with those last two skeins of soft, lovely yarn. While
others
seem to have found the perfect use for their leftovers, I appear to be collecting an ever-growing collection of odds and ends.
I also admit that I
obsess
have concerns about wasting anything. I blame my
cheapness
frugality at least partly on growing up poor. Just the other day my mother said that being poor forces a person to be more creative. It's hard to argue with a woman who made me a desk from scrap wood, a huge old drawer, and a leftover piece of laminate from the kitchen counter. Many people laughed at my desk (you know who you are), but it was functional and sturdy as could be. I've been told that my brother added a few extra embellishments and is still using that desk 20 years later. Yep, apparently my entire family is cheap.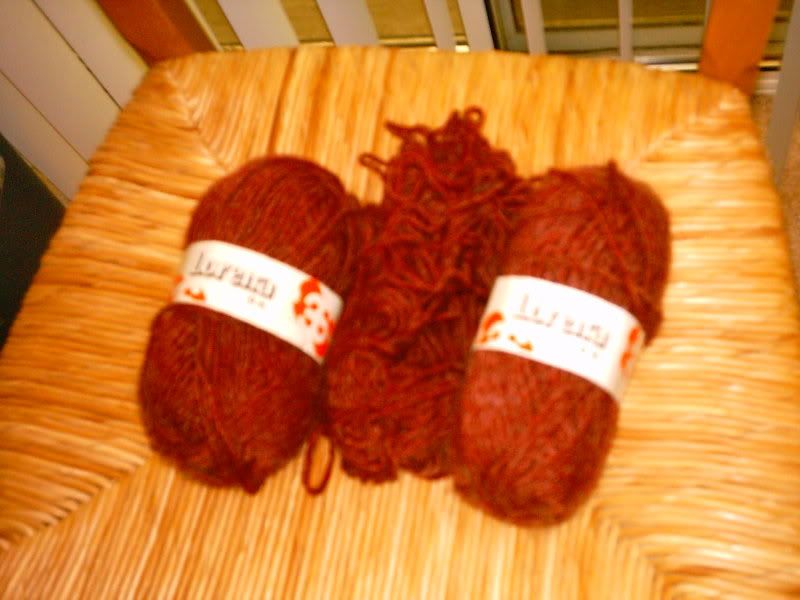 After a recent
FO
, I still have a couple skeins left of soft, fuzzy burgundy yarn. Rather than creating my own pattern, however, I figured I could take advantage of the creativity of others and find the perfect pattern. Recently I was also reminded that even in southern California stylish outerwear is
necessary
at times. So, I am going to jump on the bandwagon and make
Le Slouch
designed by
Knit and Tonic's
Wendy. After seeing the one
Crafty Canadian
made, I just have to have one for myself!
Labels: New Projects