UFO Roundup - The Knits
Today I was having my usual little bit of chocolate after lunch (translation: handful of Hershey's kisses), and I got to thinking about the different varieties. Even though I prefer dark chocolate, dark chocolate kisses aren't nearly as good as the milk chocolate ones. Why is that? Is is because Hershey's is better at producing milk chocolate? Or am I biased to think that kisses should be milk chocolate, because this is the original flavor? These are the deep philosophical issues I ponder at my desk over lunch. That and cold fusion and its relation to
footwear
, of course.
As for my knitting, I've been feeling pretty good about my progress on UFOs lately, having finished several things on my sidebar. I thought it would be a good time to go over my UFOs, while the number is less overwhelming and will make for a less photo-intensive post. I am hoping this will motivate me to make some real progress on these last few projects so I can start some new things without feeling too much guilt.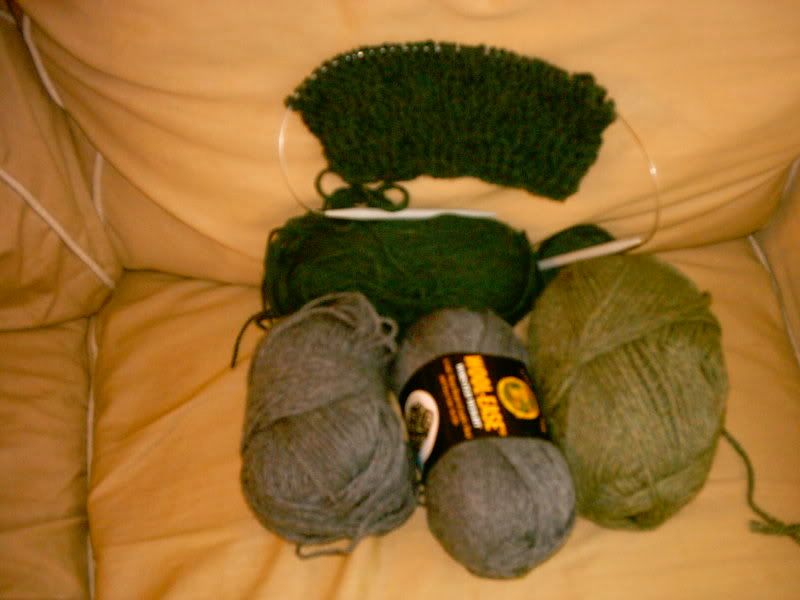 First, the collegiate scarf (the pattern is actually the
country home striped scarf
, but that sounds kinda girly to me). This project was mostly intended to use up some dark green and dark gray woolease. I found a striped scarf pattern, in which the worsted is doubled and each color is done in a different pattern. I then bought a skein of light green woolease chunky and another skein of gray to have enough (sounds like some sort of physics problem; why do we always need to buy more yarn to use up yarn?). I started it during knitting group and the pattern was nearly impossible to see in the dark green and I kept getting distracted and forgetting where I left off. Also, I was using these crappy plastic needles that were a pain to knit with. I do like the color combo and easy care yarn (hint: even a brother could properly care for it), so I'll probably rip out what I have and start over with my new
Options needles
and one of the lighter colors.
Second, I have the Schachenmayr sweater which has only a sleeve finished. Said sleeve is actually the wrong measurement (too large), and will likely need to be ripped. I decided to use the sleeve as a gauge swatch and it seemed on target at first. I knit most of it in the car while moving across country, so who knows how that may have affected gauge. Did I mention that it was knit on size fours and had all kinds of complicated shaping instructions (at least complicated to keep track of while moving)? I really need to knit a real gauge swatch and probably go down a needle size or two, then start the body of the sweater.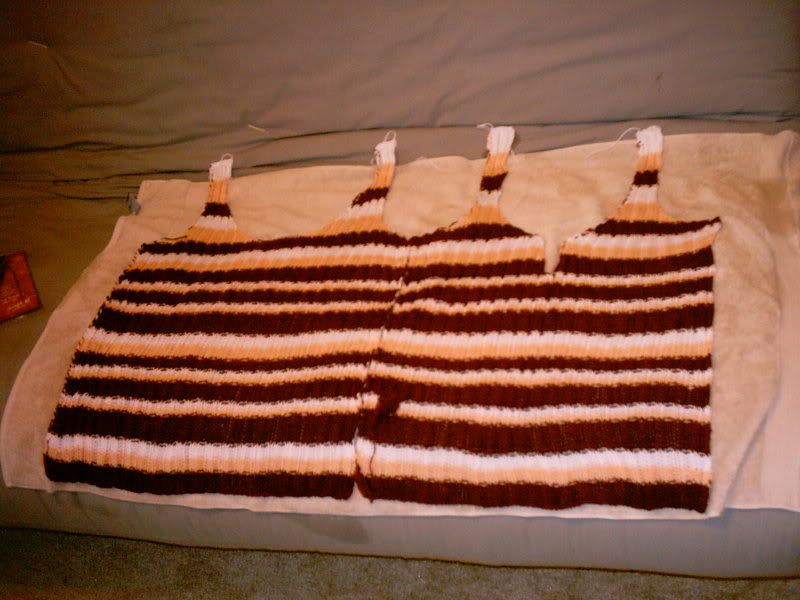 Finally, I have the Knit.1 tank which is dangerously close to being an actual FO. Above you can see it blocking. I have since sewn the side seams, but realized that the straps are too long (I wasn't sure, but figured better to knit them too long than too short). So, I am ripping the straps about 2 inches, and will then seam the straps and crochet an edge around the neckline and sleeves. It seems to fit quite nicely, and I hope to get a lot of wear out of it this summer.
I leave for a conference in Florida in a few days, and I'm not sure about the fate of these projects as far as a travel companion. The scarf would be nice to work in airports and on planes, but will be much too hot in Florida. The schachenmayr sweater needs some heavy duty swatching before I can really get a good start and the finishing of the tank seems better left for home. It seems like a good reason for a new project, doesn't it?
Labels: UFOs