California Dreamin'
I'd be safe and warm
If I was in L.A.
California dreamin'
On such a winter's day - The Mamas and The Papas
I have to admit that some things make a lot more sense since I've moved to southern California. Certainly, I can relate to the above lyrics now that I'm growing accustomed to the lovely weather here. Other things however, still amuse me. For example, the weather forecasts here need some interpretation. For those of you who may be visiting here is a helpful guide:
1. marine layer - it will be overcast in the morning, but clear up and be sunny by afternoon. For those of you who like to whine, just remember that it's the only thing keeping the temps from reaching 90's or 100's
2. partly cloudy - Someone, somewhere in the entire southern California area saw one wispy little cloud. Be warned, that little cloud may cross over the sun for 3 seconds!
3. rain - A large news event. Seriously, stop what you're doing and stare at the water falling from the sky. This almost never happens here.
4. heavy rain - The drops of water actually make it to the ground before evaporating. See above regarding newsworthiness.
5. beautiful - Most people would consider nearly every day here beautiful. However, for us the high temps should be between 70 and 85 degress, only a little wind, and it shouldn't be too dry or too humid. Yes, we really are that picky.
6. Santa Ana winds - Batton down the hatches and go indoors! This is the hottest, dustiest wind you'll ever experience.
Hopefully this guide will help you plan better for your next trip to our part of the country.
Just to answer a quick questions from
JenfromRI
, yes the Seija blankets have a hole in the center for a seat belt. This makes it handy for car seats and strollers, I am told. Apparently, babies derive great joy from kicking such things off, so being able to belt it in is a fun way to foil them.
I finished yet another Seija. This is for a little boy and is a companion to the
minty one
, which is intended for his twin sister. This blanket was particularly awesome because it used a ton of some old yarn I've had for at least 10 years (the dark green). I have almost used up all my old acrylic yarn!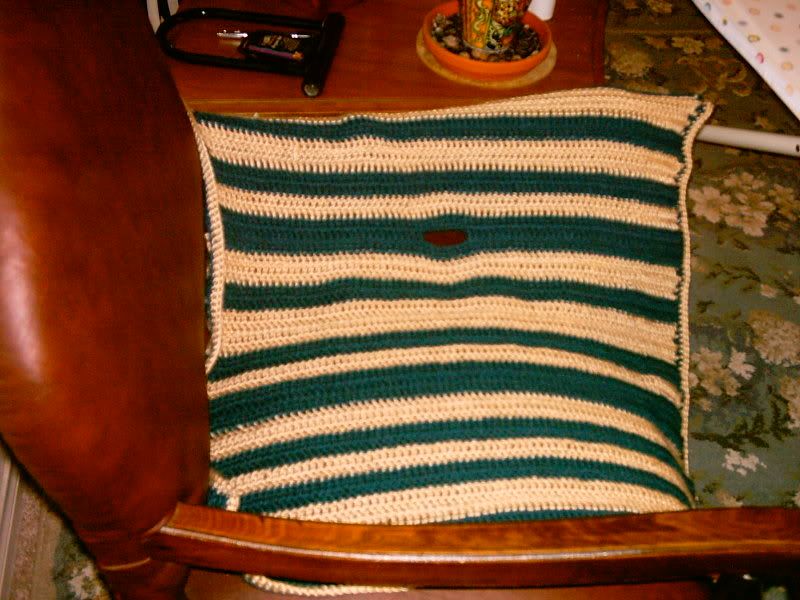 Yarn: Caron Simply Soft in bone and Caron Colour Perfect in woodsy green
Pattern: Seija blanket in
The Happy Hooker
Changes: I used 86 stitches rather than 74 and added a few more rows. Instead of the double crochet and braid I just did three rows of single crochet around the edge (one green, two tan).
Yardage: most of the skein of bone and woodsy green
Hook: size H
Notes: Once again, great pattern
I've started another Seija in pink/white/multi for my friend's one month old little girl. I promise to quit boring you with the same pattern over and over again very soon (only two more after the pink one; boy are my friends fertile!). With all the leftovers from these Seijas, I plan to make a couple of multi-colored baby afghans. I am considering using big chunks of color, like the
Color Bar
blanket in the Happy Hooker. It won't look like the actual color bar per se, but would be a bit more modern and interesting I think. On the other hand, I could do knitted
log cabin squares
or a more standard crocheted
granny square
afghan. Any suggestions?
I know you are probably doubting it, but I actually have been knitting too. Here is a finished baby hat that will be yet another gift.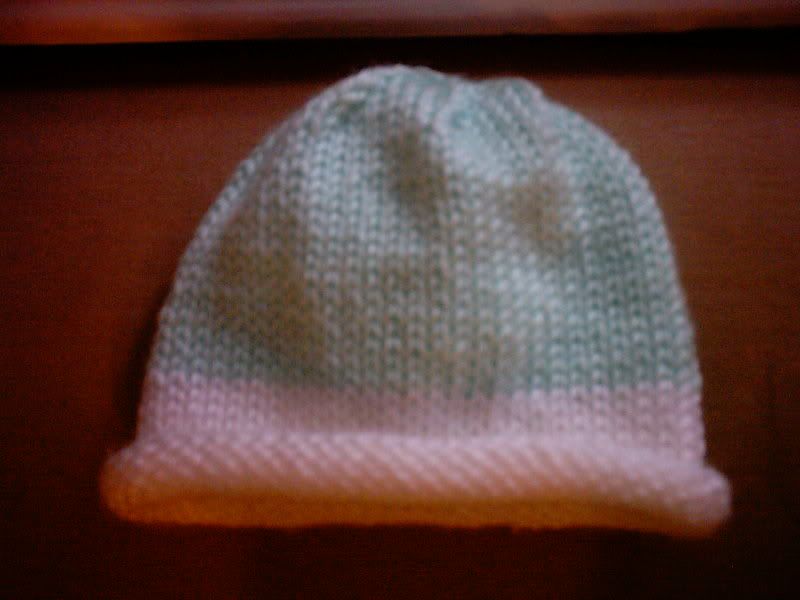 I also started a ball-band dishcloth from
Mason-Dixon Knitting
(a gift for an actual adult) and the
spider web capelet
from
SnB Nation
. I will post photos once I get a big further on those projects.
Labels: California life, FO 2007