When Crafting Wasn't Cool
As I've mentioned previous posts, I am addicted to crafting. To say I was a crafter before crafting was cool, would be pretty accurate. Not that I'm trying to brag about my "street cred" as a crafter or anything, I just think this gives you an idea of the magnitude of the problem. As a college freshman, other girls went to the clubs a few nights a week. I completed a needlepoint of a Native American riding a horse in the desert (I picked it up partially finished at Good Will). I even did a term paper on quilting as a social event in the American west. How nerdy is that?
I organized my crafting supplies at the end of last week and realized that once again I needed to purchase more containers to hold it all. I have now hit the limit on what our apartment will credibly hold, without getting rid of some other items, such as clothes and food. Thus, I must craft from the stash or be consumed by the yarn, fabric, paints, embroidery floss, aida cloth, beads, rubber stamps, card stock, etc. (not altogether a terrible way to go though, right?). I could get rid of some of my less-used supplies (really, when was the last time I needed aida cloth?), but I just can't seem to part with them. Ever since I gave away the giant
wooden bow
, I've been haunted by the idea that I will create the perfect project, or at least it would have been perfect if only I had a wooden bow. I just don't feel I should take any more foolish chances with my craft supplies.
Even with this knowledge, a couple days ago I went to Michael's and bought more yarn to crochet two more baby blankets. A sign of a real addiction? Perhaps, but nevertheless this seemed like a necessary exception. I just found out another friend of mine is having twins! (Perhaps being my friend is akin to some sort of extreme fertility charm? Be warned!). I am using up some yarn I already have, but needed coordinating yarn to have enough and to make the afghans more interesting. It is the age old problem: Using yarn requires buying more yarn. Here is the yarn for blanket 1 (both the dark blue colors are new):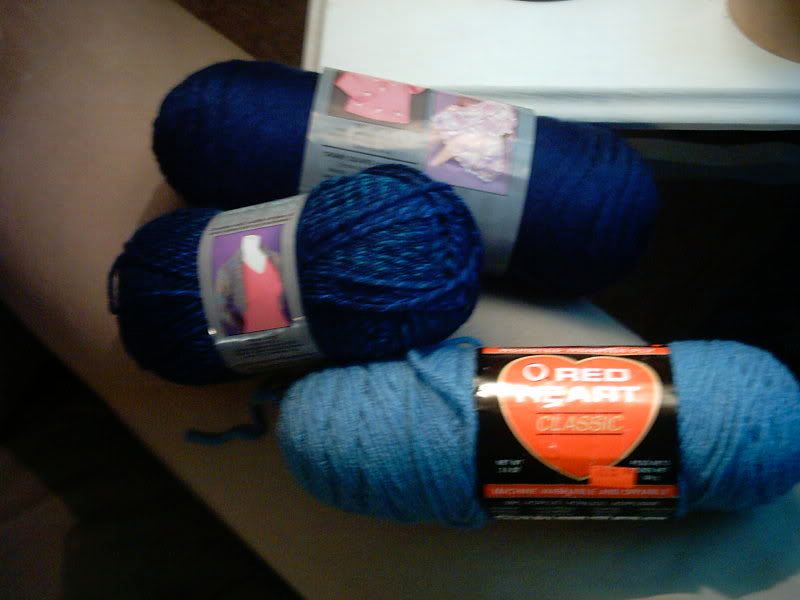 And here is what I got for blanket 2 (the cream and red are new):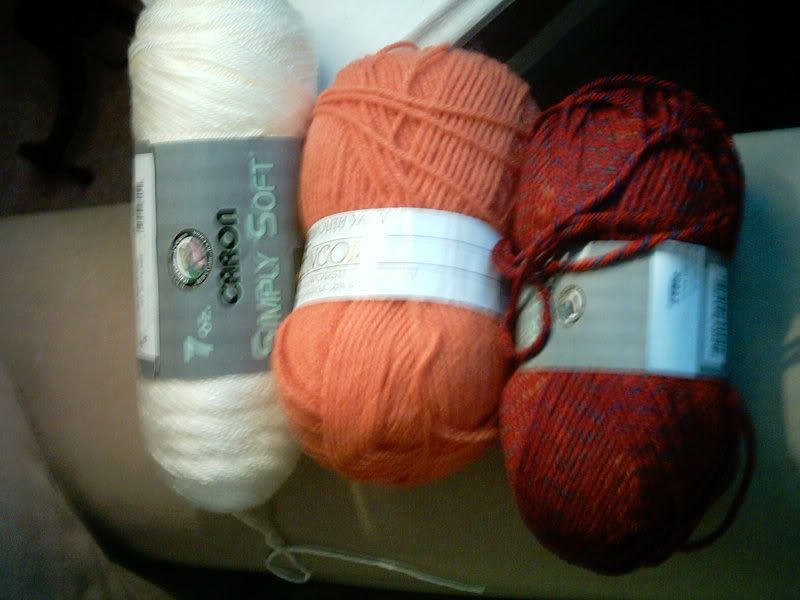 Labels: Knitting-Related Gifts, New Projects, Yarn Stash