Two FOs
"One good husband is worth two good wives; for the scarcer things are, the more they are valued." -Benjamin Franklin
The first FO is actually my brother's wedding, which is really a finished event rather than an object. I didn't really have a lot to do with its actual completion, but it was a very happy event. My new sister-in-law is a wonderful person that we are exceedingly happy to now call family, and she and my brother seem very happy together (I should apologize to him for the quote, but he loves Ben Franklin quotes and this one was too funny). It doesn't get much better than that! Here is a photo of me at the beautiful outdoor wedding at
Red Rock Canyon
this past weekend. It was a bit chilly, so I kept on my jacket for the ceremony and then took it off later for photos. Since this is a side view, you can sort of see my growing belly. I was my brother's Best Woman, and even got to hold the rings. I have to say the ceremony was very touching and I was so happy to be a part of it.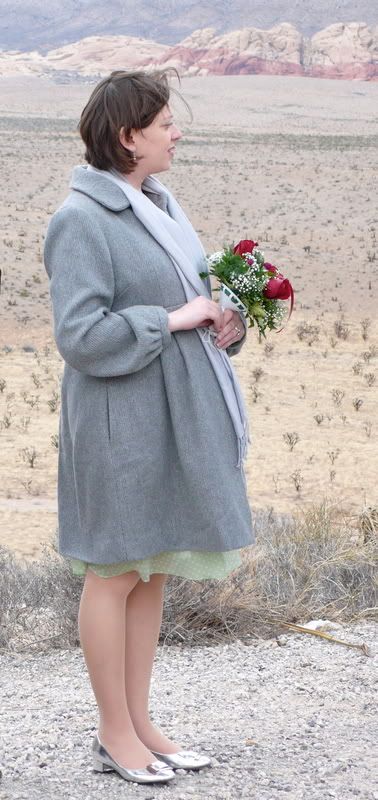 The second FO is actual knitting. I am willing to admit that my progress on even the simplest of projects has been pretty pathetic these past few months (one could argue that this has been the case since the beginning of this blog, but things have worsened to an even more atrociously slow state recently). There are numerous reasons for this, including a neck and shoulder injury brought on by too much time spent hunched over grading (I should have known that grading was dangerous for one's health; it sure feels unhealthy when you're doing it). Also, the yarn for Le Slouch was so old (12 years and moved more times than a failing TV series) that it really upset my
dust allergy
. I think I have enough yarn left to make matching fingerless gloves, but I plan to wash the it first.
Yarn: Lorena DK (40% wool/60% acrylic) in burgundy
Pattern:
Le Slouch
by Wendy Bernard
Changes: None, I basically knit the pattern as written
Yardage: 1 skein (200 yards)
Needle: US 7 dpns
Time: Started July 2007 and finished January 2008
Notes: The seed stitch was a little tedious and I kept dropping stitches from the dpns, but these were really minor negatives. Overall, the pattern was easy and fun and the result is a very flattering yet practical hat. Below are a couple photos of the finished hat and an actual action shot.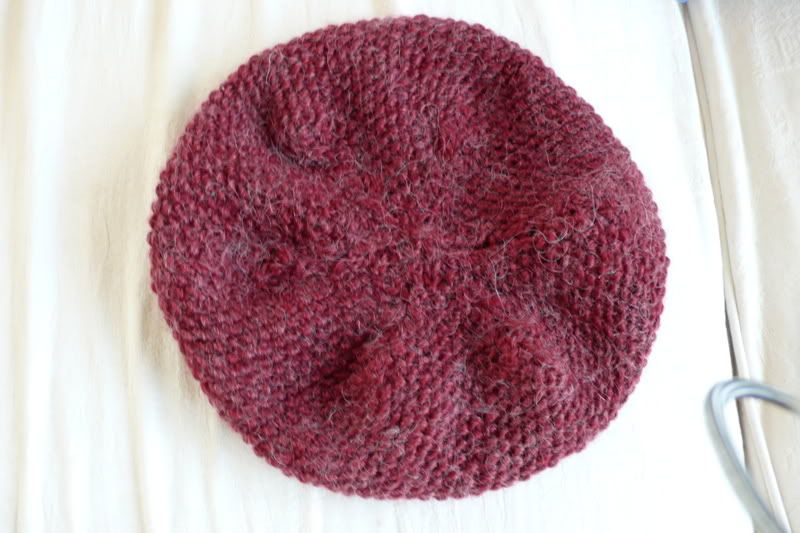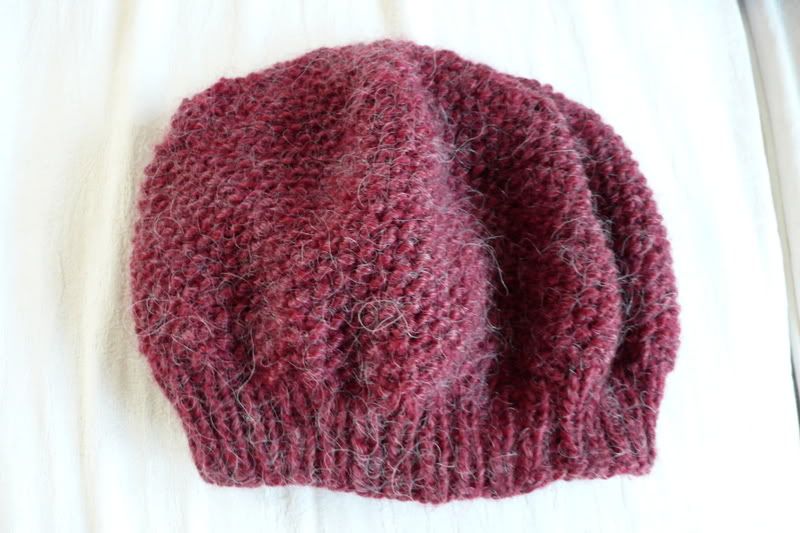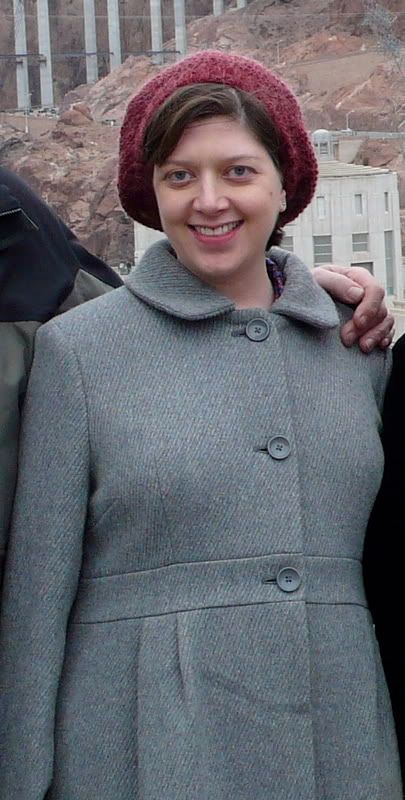 Shockingly, I have more FOs to post, but don't want to splurge on putting all of them in one post. It may be awhile before I finish anything else afterall.