Very Expensive Lingerie
As I walked into the living room the other day I got this information from my husband:
"Did you know that there is a $30 million diamond bikini?"
Here
it is. Be sure that no young children or bosses are present. For that much money you'd think it would cover more than just the necessities, but maybe that's just me. What prompted him to even look for such a thing? I am guessing that he caught part of one of those list shows on cable. You know, like the "25 Sexiest Couples," or "50 Most Embarrassing TV Moments." Perhaps this one was "20 Most Revealing and Expensive Swimsuits" or some such thing. Maybe Ravelry should use this as a model and start a "20 hottest knitting patterns" list?
The winter holidays are still several months away, but, prompted by the
Loose Knit Group
on Ravelry, I'm trying to plan out my gift-giving in advance. My hope is that making many of our gifts will mean they will be more appreciated by the recipient, save money, and use up some of the stash, all positive things.
For my youngest brother I plan to make fingerless gloves to go with his
hat
. Below is my gauge swatch. I just got the right size dpns and am ready to start.
For my sister-in-law I want to make a cool crocheted handbag, like the
fat-bottom bag
or
granny's no square
from
The Happy Hooker
.
For the middle brother I plan to make a
gaiter
(basically a tube that can be worn as a neckwarmer or a hat; pattern can be found in
"One Skein Wonders"
). I have some forest green wool-ease that should fit the bill:
You may recognize the gray and green yarn. They are emerging from the frog pond after a time as the collegiate scarf. It was too wide, the colors not so great together, the pattern was hard to follow, and I didn't really have anyone in mind for it, so I finally ripped it. The light green is a chunky yarn that I think will be reincarnated as a beret. Anyone else starting to think of holiday gifts yet?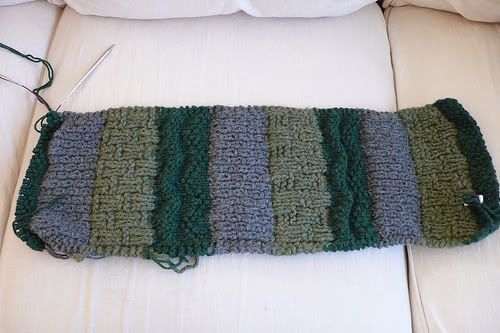 Labels: Knitting-Related Gifts, UFOs