Will It Stretch To Fit?
It is raining today in SoCal, normally a rare event, although this winter has been a lot more rainy and cold than usual. For a knitter that's not a bad thing. Today I am actually wearing a
vest
I knit for the Knitting Special Olympics, 2006. What is the Knitting Special Olympics, you may ask? My knitting group was full of new knitters and we weren't ready for the actual Knitting Olympics, so we did our own version that was about enjoying the process, rather than competing. No one actually finished their project, but that wasn't the goal. We just wanted to challenge ourselves to do something more complex than we had before. It was lots of fun and we had a closing ceremonies party to celebrate our accomplishments, complete with medals for the winners.
Anyway, it is rainy today and the light in my office is burned out. Wouldn't it just figure that on one of the 10 cloudy days we have here, my light is burned out? So here I sit in the glow of my computer watching the rain and thinking about what new fuzzy woolen knitting project to cast on. Here is a project I cast on early in the winter and I've just gotten back to: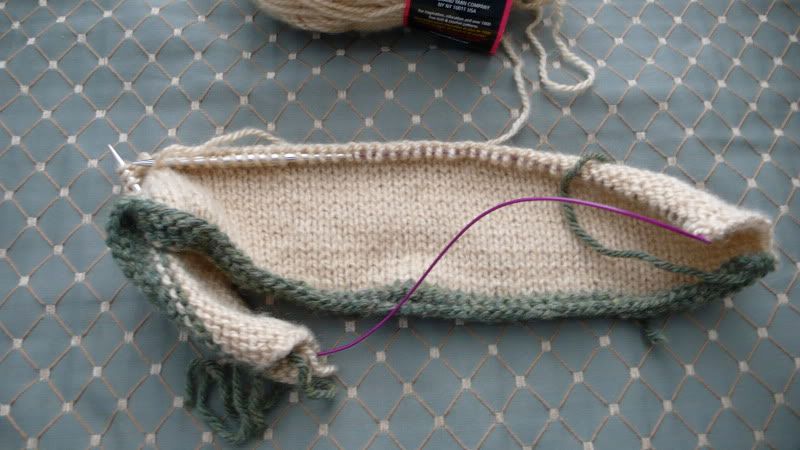 It is a
One-Skein-Wonder Baby Sweater
from the book
One-Skein Wonders
. I had leftover green chunky Wool-Ease from my brother's Christmas gift, so I just bought some tan chunky yarn to go with it and voila! A baby sweater for a little boy. It is intended as a gift for friend who had a baby boy in October, but at the rate I'm going he will be graduating from college before I finish it. This may end up in the bin of baby gifts, ready and waiting for the next friend who has a boy.
Labels: New Projects