Going for the Gold!
Thanks for all the mohair input. Once I finish another project or two I'll go ahead and start it.
Sorry for taking so long to update on my Ravelympics results. Look over there in the sidebar. Do you see them? Yep, those are my medals. It took awhile to get around to posting since my team started celebrating after the medals ceremony (Team
Motherhood Later
on Ravelry). We must have gotten a little carried away, and some of us may have, ahem, passed out behind stadium. Anyway, now that I've recuperated from the celebration I can finally post about my two projects. The project that took up most of the 17 days was my
Linh's Ivy
scarf. It turned out great and I got a gold in the Scarf Super G! Here I am modeling the day after I finished. Yes, I am aware that there is palm tree behind. Trust me, it was chilly don't let the palm tree fool you.
I was also able to quickly finish another
Ballband dishcloth
for holiday gifts for RJ's daycare providers. Four down and two to go! I finished just in time and got another gold in Holiday Jump-Start Skiing.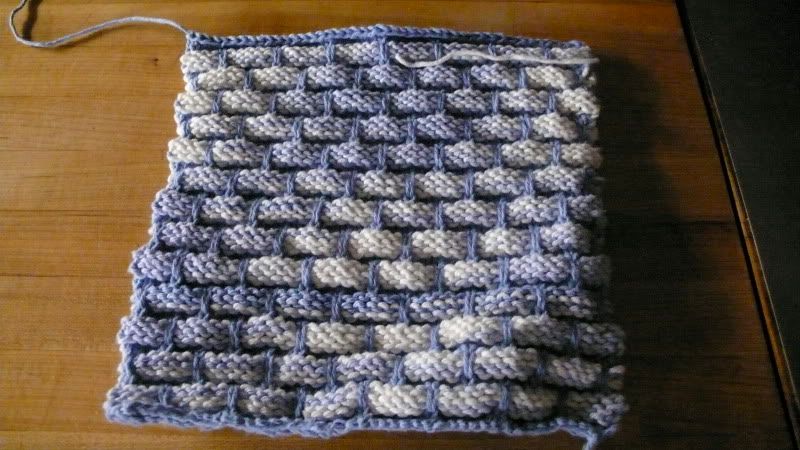 Woohoo for double medaling! Most importantly I feel like I can actually finish a bigger knitting project (well, bigger than a dishcloth) in less than six months. I am feeling inspired to keep giving myself Ravelympics-like goals. For my next project I plan to finish RJ's new Anouk in time for Easter. The Anouk was my
fallen project
for the Ravelympics, and I've now fixed it and caught up to where I was before. I only have about 3 weeks, but I think I can do it!
Labels: FO 2010, Knitalongs, Knitting-Related Gifts