Dressing Better
"I'm not a beautiful woman. I'm nothing to look at, so the only thing I can do is dress better than anyone else." - Wallis "Wally" Simpson
Dressing well is so easy when you have someone else's lovely knitwear. A very long time ago Theresa of
Knitting Underway
had some lovely
knit items
to purge from her closet. I was lucky enough to be the recipient of a sleeveless cable sweater.
I swear, I've already worn it several times and each time I was bombarded with complements. Just goes to show what an expert can really do with a bit of yarn and a couple sticks. It is knit in a lovely color of Lionbrand Homespun, with a large cable in the front. It almost looks like it was made for me, even with the expanding belly! Thanks Theresa, for being so generous with your knits.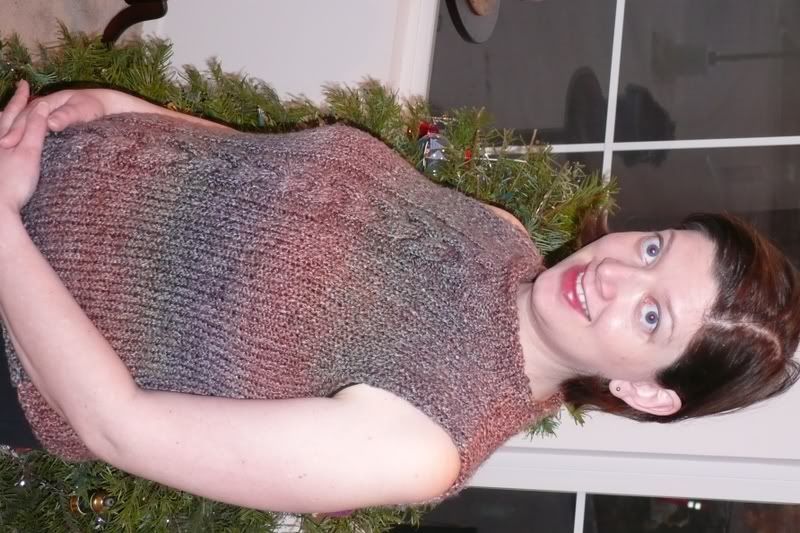 I also have a progress shot of the ribbed hat I've been working on. The pattern is from
One-Skein Wonders
and is very easy. I am trying to use up this gray yarn, which I already used as part of a
vest
and a
scarf
. This yarn is about 12 years old and is a slightly itchy wool/acrylic blend. I think a little wool wash will probably soften it up. The color is nice and it knits up fast. The dark gray is wool-ease worsted.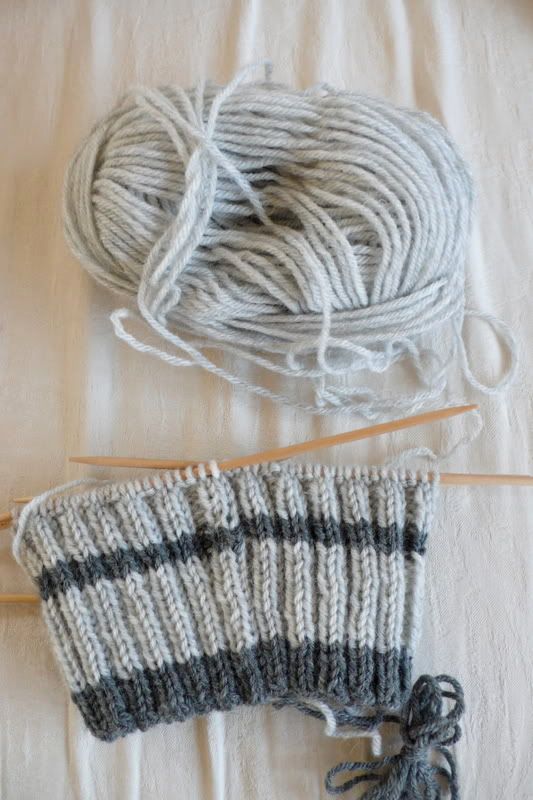 I also have three FOs to post about, but I have to finish weaving in ends and remember to ask my husband to take some action shots for me. Classes start next week (eek!), so I'd better get moving on finishing up some of these projects!
Labels: Knitting-Related Gifts, UFOs