The Road to Success
"The road to success is always under construction." - Lily Tomlin
There are usually a couple of potholes too, just to keep you awake as you drive along. If you've ever been in Rhode Island you know what I mean. Here you have my latest FO. Both the
vest
I finished earlier this year and this tank top were very close to completion for far too long. Just imagine how long it would have taken if they'd had sleeves? Anyway, here it is, even finished in the appropriate season: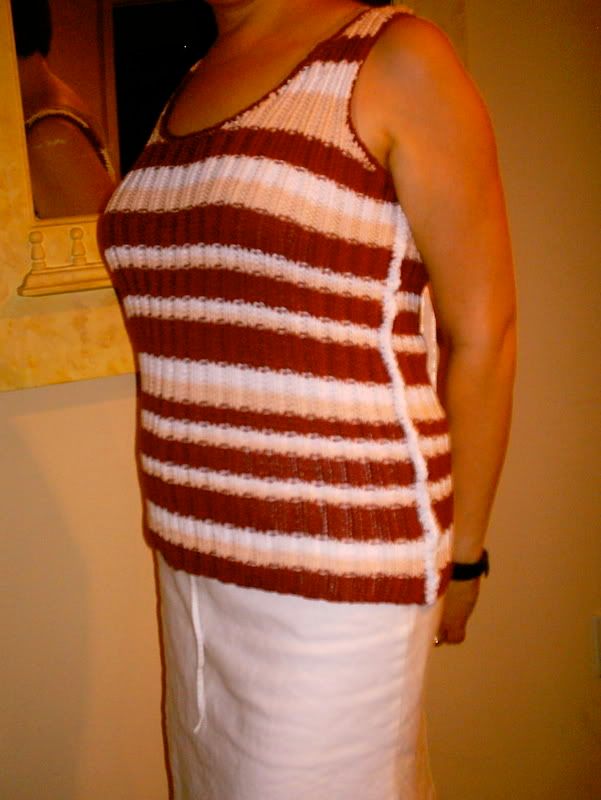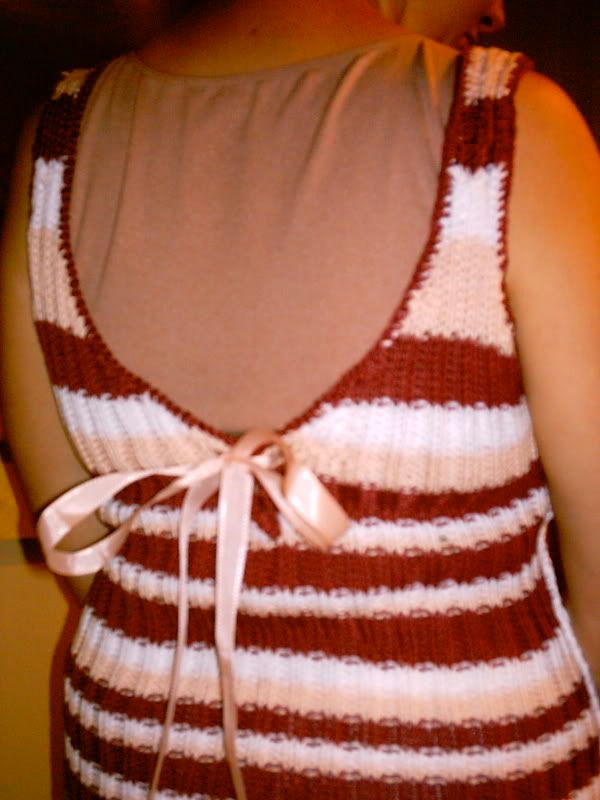 Yarn: all worsted weight mercerized cotton, King Tut in mauve, Linie 12 in white, and Klaus Koch Kollection Clip in light pink
Pattern: ribbed tank from Knit.1 summer 2005
Changes: I made it longer and striped instead of solid. Also I used single crochet up the sides to give it piping look on the side seems (my regular seaming looked sloppy).
Yardage: about 300 yards of the mauve (less than 2 hanks) and about 150 yards of each of the white and light pink
Needles: US size 9
Start/End Date: Started on June 1, 2006 (one of my Amazing Lace projects) and finished seaming on April 22, 2007. It then took me another two months get around to crocheting the edging and weaving in the ends, and another month to have my hubby take some photos.
Notes: This pattern included some bust shaping which I found not only unnecessary, but I also thought it looked bad, breaking up the rib pattern in an odd way. Also, according to more experienced knitters, it was a peculiar way to do bust shaping (not short rows, like you might have expected). I also added about 3 inches to the length (I wanted to make sure it wasn't cropped).
Overall, I am happy with it, although weaving in all the ends in cotton has made me want to avoid doing stripes for a good long time. Also, next time I will wear it with a tank that sits lower in back to show off the keyhole better and put on a belt to cinch in the waist. That will hopefully give it a slimmer line. I think it looks more flattering in real life than the photos would have you believe (the camera adds 10 pounds, right?), even with the horizontal stripes. ;)
Next, I hope to tackle some more, ahem, long-standing UFOs. My poor
Schachenmayr sweater
consists of
one lonely sleeve
that is just a tiny bit too big (by a "tiny bit" I mean an inch all around; just like the
Yarn Harlot
says, gauge swatches lie). In the mean time, I've been working on lots of small baby items for gifts. Small items are so much fun, especially in summer!
Labels: FO 2007