An Unseasonable FO
I finished these warm, woolly fingerless gloves, just in time for the hot season here in SoCal. I know, good timing right? Now I'm thinking I should start my bulky wool hoodie. I'm only half kidding, since starting it now would mean I might finish it in time for Christmas. The only thing stopping me is that I am spending two weeks in Wisconsin in July, and that project would be way too bulky to take along. I will probably take along a project for my light, airy Jaeger Trinity. I was working on a
simple top
from a Schachenmayr pamphlet, but I am having trouble getting gauge with size 3s, and the idea of going down to a size 2 needle for a whole sweater gives me the willies. So, I found a couple new pattern options that I will swatch. I will post about that soon. Anyway, here are the particulars of the fingerless mittens:
Yarn: Lorena DK, wool/acrylic blend
Pattern: Modified version of Fingerless Mittens from
One Skein Wonders
Changes: I added quite a bit of length to the cuff, and a little to the thumb and hand. I wanted to have more coverage and to use more yarn.
Yardage: about 1 skein (125 yards)
Needle: US 7
Time: Started July 2008 and finished April 2009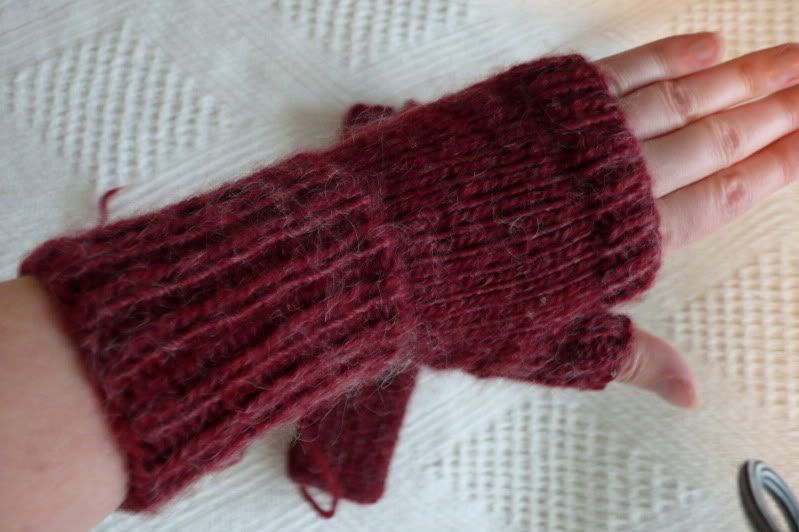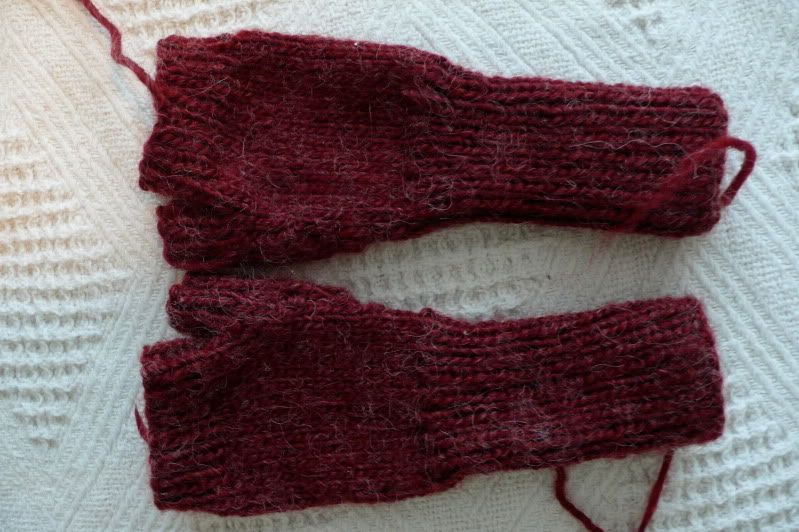 I bought this yarn at a craft store in Iowa City, IA while in grad school about 12 years ago. The store is probably long since closed, actually. So far, I've used the yarn to make a
vest
, a
hat
, and now a pair of mitts to match the hat. Honestly, I've gotten more than my money's worth out of this yarn. Despite my best efforts, I still have a small ball of this yarn left that I really should just toss away and be done with it. However, now that I have the mitts and hat and I am thinking I need a matching scarf. Perhaps I will start the
Ribbed Mini-Scarf
, and see if I have enough yarn, or just the flower part of the
Flower Scarf
(Ravelry links). My frugal nature refuses to let me waste any yarn and my vision for a matching set is taking hold.
Labels: FO 2009, New Projects