Helloooo, Out There!
With such a long absence from posting, I'd better have news right? Well, I actually do have good news. My hubby has started a new job! It was a long (i.e., two months!) interview process, but the end result was good. He has been working at his new job for two weeks now and we are still scrambling to adjust our lives to suit his new schedule. He is still taking evening classes towards an MBA and my teaching load is really heavy right now, we are stretched pretty thin. Even though we're super busy, this came at a perfect time and in general we are less worried about things.
On a less positive note, I have been furloughed, which means that by definition I am supposed to work 10% less and get 10% less pay. In reality, the stupid furlough has created twice as much work as usual and decreased moral among faculty, staff, and students at California universities to basement levels. The administrators made sure to give themselves raises so they are unaffected, while our raises have been indefinitely suspended (never to return, I'm sure). That means no cost of living raises, nada, nothing, PLUS a 10% decrease. Can you tell I'm bitter? Honestly, I love being a professor, but I do feel pretty betrayed by this whole situation. I try not to think about it too much and just keep working along.
I haven't photographed anything in quite awhile (including poor RJ, who needs an 18-month photo taken this weekend!), but will try to catch up this weekend so I can post some actually knitting content. In the meantime I'll post a photo of RJ playing in the sandbox her grandpa and grandma made for her in Wisconsin. I love her cute sweater, which sadly was purchased, not handmade. However, after our visit I must have really inspired my mom to pick up the needles and she has been knitting like a crazy person. RJ now has 5 (yes 5!) new sweaters knit by her grandma. My mom needs some new projects, so I'm downloading some cute dress patterns and buying a bunch of yarn for her from
Knitpicks
. If anyone knows of some cute toddler patterns (12-24 months or so), please share them!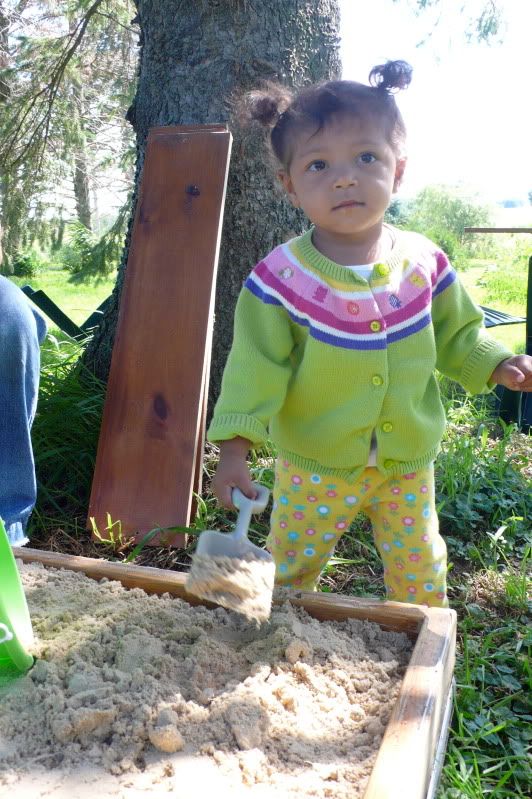 Labels: pointless blather