Party Like It's 1979
My wonderful knitting group, All Things String, had it's annual holiday party this past Saturday. Last year we had fondue and it was such fun that we did it this year too. The fondue party of the 70's is definitely back in full force! If you dip vegetables in cheese and fruit in chocolate it seems like overall the meal must be healthy. At least that's my theory (please don't correct me). We ate, knit, did a
white elephant gift exchange
, and ate some more. It was a fun time!
The gifts were all really nice, no true white elephants in the bunch. At first, people were playing nicely and there was very little stealing. We had a second round, just to make sure that this niceness didn't last. I was extremely happy with the gift I initially chose (some beautiful stitch markers and a bracelet counter brought by
Crafty Carolyn
). The fun of stealing was much too tempting however, and I am also very happy with my final gift, which included a Starbucks gift card (the knitting group meets at Starbucks), the newest issue of
Stringing
, and a beautiful skein of yarn handspun by Zona of
Twirl Girl Fibers
. It is spun from wool roving and Sari silk. Cool huh? I haven't decided what this yarn should be yet, but it sure is lovely to look at isn't it?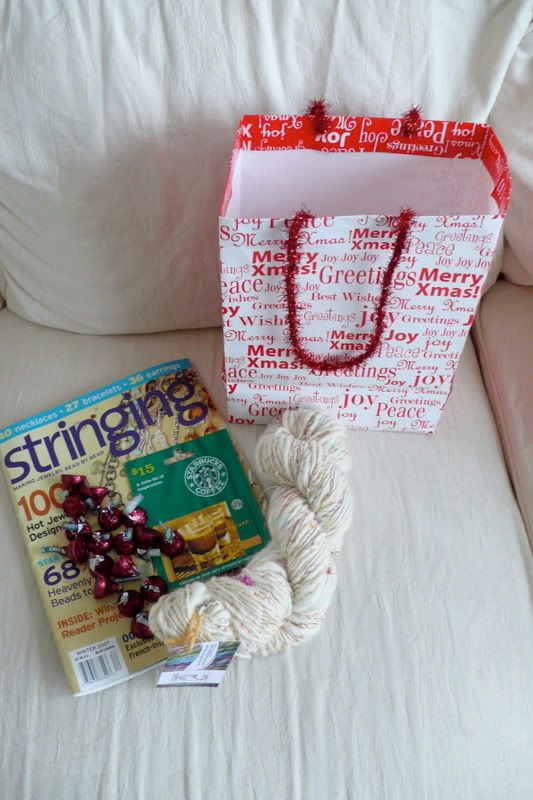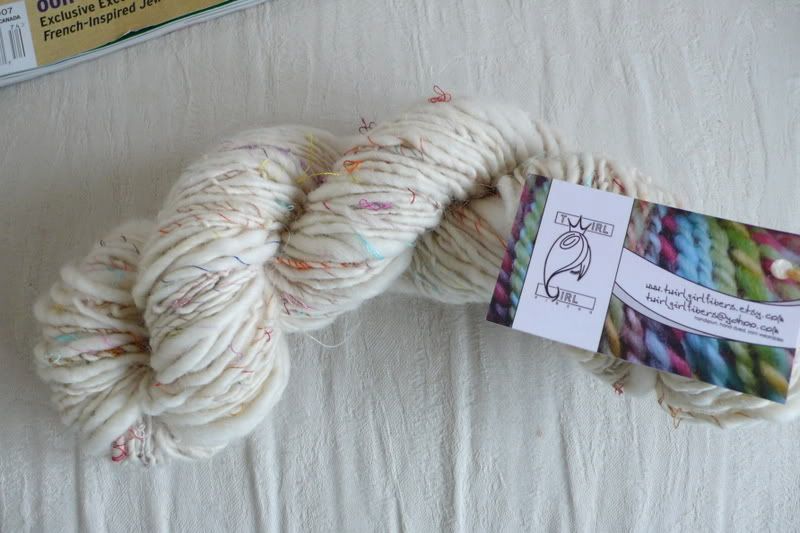 Knitting and crocheting are actually getting done these days, so I'll soon have some more completed projects to post about. Also, I want to give my husband a big congrats. He became a US citizen yesterday!!
Labels: Knitting-Related Gifts, Yarn Stash