A Risque Hobby?
Sometimes I'm surprised at how the general public views knitting. Recently I went to a dinner with my colleagues and during the course of the conversation, I started a sentence with "last week at my knitting group.." I never got to finish my statement, because my colleagues stopped me with surprised exclamations. Apparently, they were unaware of my crafting
obsession
hobby and were rather surprised that I knit. After explaining that it is now very hip to knit, one of my colleagues leans over and whispers in my ear, "I've been taking pole dancing class." Evidently, this a new exercise craze that's spicing up life for married folks. All very well and good, but I was unclear how it related to my knitting hobby? Should I be happy that she considers knitting as sexy as pole dancing? Perhaps the sight of me with those long pointy sticks is inadvertantly driving men wild? Or, was she insinuating that we were both doing something risque and secret? Just to prove a point I brought my knitting to the next faculty meeting. Let's see them try that with pole dancing!
I finished a potholder which I think turned out pretty badass (for a potholder anyway). These are so fun and easy to make, and the best part is that they actually work! I like them so much better than purchased ones.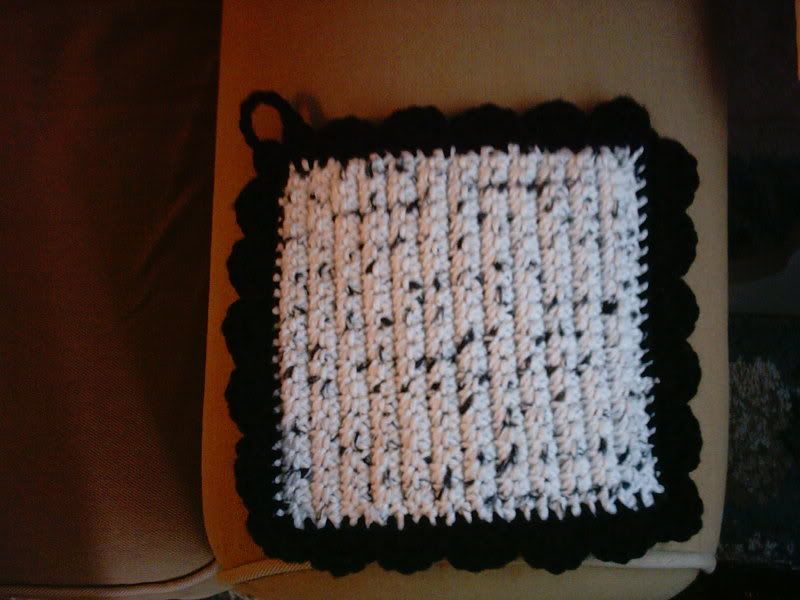 And finally, a gratuitous scenery photo. The hubby and I went to San Diego for a short trip last week and wandered around Balboa Park. These are some of the lovely cacti and succelents you can see there.